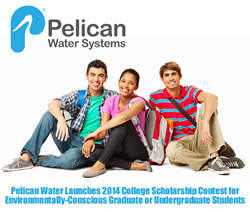 Deland, Florida (PRWEB) August 28, 2014
Pelican Water Systems, the market leader in environmentally friendly, affordable, salt-free water softener systems, is pleased to announce its 2014 College Scholarship Contest, which provides three financial awards of $1000 to $3000 to three deserving, environmentally conscious college students.
The College Scholarship Contest, which is open to graduate or undergraduate students, is the latest part of Pelican's go-green initiative. These go-green efforts have led Pelican to develop environmentally-friendly water softening systems that both save energy and eliminate harmful salt and chemical discharge into our precious freshwater supplies.
These systems provide home owners with purer, cleaner water without harming the environment. Salt-free water softeners also do not waste water as salt-based systems do, and are of particular importance in areas with heavy drought, such as California.
The contest supports Pelican's environmental and water conservation efforts, as well as our next generation of environmental leaders and innovators. It provides scholarship awards of $1000, $2000, and $3000 to the college students who provide the best answers to the following: What are your daily water-saving environmental contributions and how do they affect the environment?
Each submission must include a new water-saving strategy for the home, and should include specific metrics and figures. This means, for example, that the student should describe how his or her strategy would save a total of 15 gallons of water daily, for a total of 105 gallons per week.
Pelican is seeking college students with a high level of integrity, passion and commitment to excellence – the very same principles that have guided the company since its founding in 2003.
Applicants must have a 3.5 GPA or higher in college or high school and one letter of recommendation. Applications also will be judged upon originality and creativity of the essay, emotional impact and relevance to the topic. The deadline for all submissions is Oct. 15, 2014. Note that all applicants must be legal US residents, and must be enrolled full time at an accredited university in the US.
To learn more, visit the Pelican Water Systems College Scholarship web page. All applications and related materials should be sent to submissions@pelicanwater.com by Oct. 15, 2014.
About Pelican Water Systems
PelicanWater.com is the official, factory-direct retail website for Pelican Water Systems, providing professional knowledge and leading technologies in environmentally conscious, salt-free water softener systems, as well as whole house water filtration systems. Pelican Water products use cutting edge technology and enable customers to go green by eliminating wasteful and harmful salt brine discharge that is polluting our scarce fresh water supply.
For over a decade, Pelican Water has been the global market leader in salt-free water softening systems, and our mission remains to be the world's premier water solutions company through the development of premium, innovative, and environmentally responsible products and our unsurpassed commitment to integrity, passion, and exceptional customer service.
For more information about Pelican Water Systems, visit PelicanWater.com.