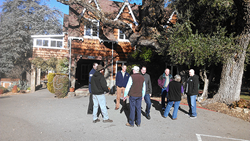 It's also a great time for friends and family to gather while the weather is most agreeable with warm days and cool nights.- Bob Effisimo
Petaluma, California (PRWEB) August 29, 2014
Autumn offers us an ideal season for going on retreat. Whether alone or with a group, these weekend getaways are prime opportunities to experience something different.
"Retreat" means a place of haven or a withdrawal from harm. Being on retreat can provide an environment in which physical, emotional and mental well-being may be welcomed without our typical reactivity kicking in so quickly. It's like turning off the auto-response part of the brain and allowing our inner observer to witness ourselves in new ways.
It's one of the reasons there is cultural advocacy for people getting out into natural settings to work, pray, play, plan, and learn. The environments in retreat settings offer people places to relax into, to feel the earth beneath our feet, to unplug from hectic lives...and even have someone else cook.
Individuals and groups are motivated to go on retreat for a myriad of reasons. United Camps, Conferences and Retreats, managing retreat properties since 1970, suggests the following benefits of a retreat experience.
1. Breaking Routine. Getting away from everyday habits and customs can free individuals to consider different approaches to their usual way of being.
2. Unplugging From Electronics. People can become so tuned in to emails and texts as integral parts of daily life, unplugging from these electronics and having a few days of simplicity might feel healthful.
3. Connecting with Yourself & Others. When people are "unplugged" from daily routine, phones, and computers, they may find the opportunity to become more fully present to themselves and to those they are on retreat with. Real conversations and connections may be more highly appreciated.
4. Experience Human Being Rather Than Human Doing. People are often obliged in culture to keep busy and complete tasks. Giving time to disengage from usual duties can allow time for deeper relaxation.
5. Appreciate Natural Settings. Nature has a rhythm all its own. It is much slower than the pace many keep. Nature may well help us slow down, pause, even stop and observe.
6. Learning Something New. Retreat settings and programs provides an invitation to experience new learnings. From challenge ropes courses to a keynote presentation, retreatants may often be more open and ready for fresh knowledge.
7. Team Building. Sharing meals, activities, and playing together can create sound connections between individuals in a group. It is one of the most persuasive aspects of going on a retreat with a group or team.
8. Gain a New Perspective. Having a few days away can possibly allow individuals some mountain-top moments to see life, work, and relationships with clarity.
9. Self-Care is a Win-Win. When folks catch their breath and feel more relaxed and inspired, they might experience a calmer, more inspired attitude as well. Others in their life may also reap the benefits of the experiences of well-being.
10. Food & Lodging Provided. This is often the real treat for retreat attendees. Meals are prepared for you. Most retreat centers are happy to accommodate special dietary needs. Enjoy.
So whether it is a spiritual retreat with teenagers or a snowy play weekend with a scrapbooking group, in a fiddle camp weekend or on a team-building ropes course challenge, getting away from the regular routine and allowing time to relax in a natural setting may contribute to deeper learning, relaxation and well-being.
Bob Effisimo, Reservations staff member at United Camps, Conferences, and Retreats, a non-profit retreat management cooperative, says, "We're coming into the season for organizations to review their year and plan ahead. It's also a great time for friends and family to gather while the weather is most agreeable with warm days and cool nights. Plenty of retreat centers still have weekend dates available."
Individuals and groups don't need to wait for summer to get themselves or their team out on a retreat. The Fall Retreat Season officially begins now. Most retreat facilities are open year-round. Take advantage of site availability and enjoy some time away.