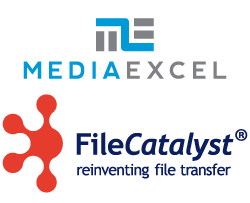 FileCatalyst provides a leading-edge accelerated file transfer advantage...
Ottawa, Canada (PRWEB) September 04, 2014
Unlimi-Tech Software, Inc., a pioneer in managed file transfers and the creator of FileCatalyst, a world leading accelerated file transfer solution, is pleased to announce co-operation with Media Excel and the integration of FileCatalyst accelerated file transfer technology into its leading multi-screen transcoding software, HERO.
Media Excel is a Texas corporation founded in early 2000 based on the development of a breakthrough algorithm to accelerate standards based encoding and decoding operations. It is a privately held company headquartered in Austin, Texas with offices in Silicon Valley and Seoul, Korea. Media Excel focuses on providing platform independent and operating system agnostic high-performance, high-quality, real-time networked video solutions for compression, distribution, and playback of audio and video content. Media Excel's HERO product line combines the flexibility of software with the performance and density advantages of hardware, providing for superior video quality, enhanced density, development flexibility and power efficiency. Media Excel's solutions are deployed in a variety of markets including broadcast, government, telecom, multiple system operators (MSO), and content delivery networks (CDN) worldwide.
Media-Excel's HERO VS, is a proven transcoding virtual software solution that provides quality and performance, ensuring a quick ROI whether investing in capital equipment or in a cloud architecture. By taking advantage of HERO VS on the cloud, users can transcode their video assets at a low processing cost with superior quality and low bitrates for additional savings on distribution costs. Adding FileCatalyst's UDP-based file transfer technology, users of HERO VS can ingest raw media content and download transcoded media files at maximum rates without being slowed by network latency and packet transmission overhead experienced with TCP/IP. The FileCatalyst accelerated file transfer protocol offers exceptional speed gains versus traditional methods, providing user transfer speeds that can be many times faster than FTP, and in some cases over hundreds of times faster.
"FileCatalyst provides a leading-edge accelerated file transfer advatange that integrates seamlessly with our HERO product line," said John Hotchkiss, VP of Operations at Media Excel. "This partnership is complementary to Media Excel's leadership in hybrid – ground and cloud – transcoding solutions and further shortens media turn-around time for our customers worldwide."
"Media Excel is a partnership we're thrilled to announce," said Unlimi-Tech's Vice President of Business Development, Alan Atkinson. "Media Excel offers audio and video processing solutions we're proud to help enhance by ensuring media files arrive securely and reliably, in addition to quickly."
About Unlimi-Tech Software, Inc.
Located in Ottawa, Canada, Unlimi-Tech Software is the Emmy® Award winning creator of FileCatalyst, a world leading accelerated file transfer solution. Founded in 2000, the company has more than a thousand customers in media & entertainment, energy & mining, gaming, and printing, including many Fortune 500 companies as well as military and government organizations. FileCatalyst is a software platform designed to accelerate and manage file transfers securely and reliably. FileCatalyst is immune to the effects that latency and packet loss have on traditional file transfer methods like FTP, HTTP, or CIFS. Global organizations use FileCatalyst to solve issues related to file transfer, including content distribution, file sharing, and offsite backups. To learn more visit http://www.filecatalyst.com or @FileCatalyst on Twitter.
About Media Excel, Inc.
Media Excel defines the adaptive bitrate, multi-device transcoding standard for multiscreen video delivery. The company's hybrid approach of using software and hardware transcoding solutions, powers more than 38 million live multiscreen TV viewers daily in the US alone. Across the head end, cloud, or edge video distribution, the company's solutions are used in a variety of markets including broadcast, government, telecom, MSO, and CDN. For more information please visit: http://www.mediaexcel.com.