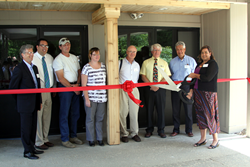 Hersey, MI (PRWEB) August 28, 2014
With dollars from Phase I of the Changing Tomorrow Together Campaign, the dream of a center where sensory activities, a gym and fitness center, and potentially a music room could all be available in one building is coming to fruition. As Eagle Village continues to serve children who have endured trauma, this space for sensory therapy and physical activity is essential.
Phase II of the Changing Tomorrow Together Campaign, which will begin in January of 2015, has a goal of $5M. With it, a 10,000 square foot addition, completion of a music or drama room and a new cafetorium will all be added to this Activity Therapy Center. Phase II will also bring about many other updates to the Eagle Village campus including new two new residential houses, maintenance facilities and other improvements.
The dedication ceremony included a time of thanking and honoring distinguished guests such as Ronald McDonald House Charities of Outstate Michigan which provided all of the sensory equipment needed for the new Sensory Room, Rogers Athletic of Farwell which provided fitness equipment for the new Fitness Room, the Branson family of Midland who originally funded the building construction in 1969, Tom and Dawn McDonald of Grand Rapids for their contribution of flooring throughout, Wexford Woodworking of Cadillac for signs and a custom bench donation and Holland Construction of Belmont for their contributions to the renovation.
The center will allow two of Eagle Village's core distinctives to come together in one location. Sensory therapy as well as physical activity are two of the best proven methods of treatment for those who have suffered trauma. Eagle Village has used these methods for years but always in the houses with minimal supplies. This newly renovated facility will provide a consistent location and available tools to serve youth for many years to come. The original dedication of the Branson building was on June 4, 1969.
If you are interested in finding out more information about the Changing Tomorrow Together Campaign or to make a contribution, go to http://www.eaglevillage.org.
Eagle Village is a non-profit family treatment center providing Intervention Services and Camps, Residential Treatment, Foster Care and Adoption services for all counties in Michigan. If you know of a family in crisis that may benefit from these programs contact Eagle Village at 231-832-2234 http://www.eaglevillage.org, Facebook or Twitter.