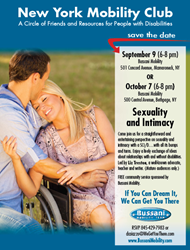 Mamaroneck, NY (PRWEB) August 27, 2014
The New York Mobility Club (sponsored by Bussani Mobility Team) is holding free events about "Sexuality & Intimacy" for people with disabilities, featuring guest speaker Liz Treston. These straightforward and entertaining discussions are for mature audiences only. September 9 from 6-8 pm at Bussani Mobility (501 Concord Avenue, Mamaroneck, NY) and October 7 from 6-8 pm at Bussani Mobility (500 Central Avenue, Bethpage, NY).
The New York Mobility Club is a local community group that supports people living with physical disabilities. A free community service, the group meets once a month on a rotating basis at Bussani Mobility's offices in Mamaroneck, Bethpage and Smithtown, NY. The gatherings are friendly places where people with disabilities and their loved ones can go to talk and learn about all sorts of resources to help them live more independent and fulfilling lives. The atmosphere is uplifting and positive. Participants share their stories, challenges and successes.
At each session, a guest speaker gives the main presentation on one of many topics including health and fitness, travel, finances, relationships, home improvement, transportation, and mobility solutions. Also included are social activities, refreshments, and giveaways…all in an accessible environment. Easy parking is provided.
For more information or to RSVP, call 845-429-7983 or email dcaiazzo(at)wegetyouthere(dot)com.
Bussani Mobility Team (http://www.bussanimobility.com and http://www.bussanicommercial.com) is a leading provider of automotive mobility products and services for people with disabilities. The company helps people with disabilities regain the freedom and independence to go where they want to go and do what they want to do. Established in 1974 with headquarters in Bethpage, NY (Nassau County) and with offices in Smithtown (Suffolk County), Mamaroneck (Westchester County) and Sunnyside (Queens), Bussani Mobility Team is a market leader in the Tri-State (NY, NJ, CT) area. The company's team of experts offers: a complete line of wheelchair vans and mobility equipment from top manufacturers available for purchase or rental, wheelchair accessible taxis, a full-service automotive shop, 24-hour emergency service, special financing options, insurance services, educational opportunities, and in-store consultants who are dedicated to meeting their customers' every need with a highly personal touch. ###