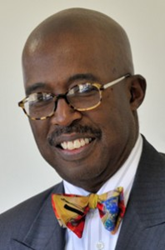 At La Verne College of Law, we're reconciling that disparity, opening the door to a quality legal education by setting a flat, fixed tuition level that's reasonable for everyone
Ontario, California (PRWEB) August 27, 2014
The State Bar of California this month named University of La Verne College of Law Dean Gilbert Holmes the first recipient of the Annual Presidential Awards for his efforts to provide access to justice.
It is the inaugural year for the Presidential Awards, which honor legal educators and professionals in the areas of mentorship, protection of the public, civic education and access to justice.
In March, in response to the soaring costs of U.S. legal education and an ever-widening wealth gap between scholarship and full-tuition law school students, the College of Law announced its adoption of a flat, no-discount 'True Tuition Model' in effect for the 2014-2015 academic year and beyond. Set at $25,000 per year for full-time students, the new tuition rate and structure address the affordability and accessibility of an ABA accredited legal education in Southern California.
"The time has come to tell the truth about the cost of legal education," said Gilbert Holmes, Dean of the College of Law. "Legal education costs have skyrocketed over the last decade. Student debt is the highest it's ever been. And the disparity promoted by a rankings-driven merit scholarship model that leans on students with a sub-median LSAT performance [skewed in some instances by race, ethnicity and socio-economic factors] to fund advantaged, historically higher-scoring students, is something that we can no longer perpetuate. At La Verne College of Law, we're reconciling that disparity, opening the door to a quality legal education by setting a flat, fixed tuition level that's reasonable for everyone."
The flat $25,000 tuition (a considerable decrease from the previous full-time rate of $39,900) for all students positioned La Verne College of Law as the most affordable ABA accredited legal education in California.
"I am proud to inform you that you will be the first person to receive the Presidential Award for Access to Justice for your commitment to making a legal education more accessible to the community," wrote state bar President Luis J. Rodriguez in a letter to Holmes.
La Verne is not the first institution where Holmes has strived to increase access to a legal education.
He founded the Charles Hamilton Houston Scholars program in 2010 through the University of Baltimore School of Law, where he served nearly 12 years, including six as dean. The program prepares under-represented college freshmen and sophomores for admission to and success in law school.
Holmes began his tenure at La Verne's College of Law in June 2013. He will be honored during a ceremony in San Diego on Sept. 13.
###