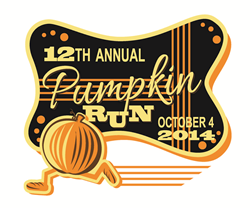 Nashville, Tenn. (PRWEB) August 28, 2014
RJ Young will host the 12th Annual Pumpkin Run, a 5K run/walk on Saturday October 4, 2013 at 8:00 a.m. at the City Park in White House, Tennessee, benefiting the American Heart Association.
The event will start and finish at the City Park in White House, Tennessee. Registration starts at 6:45 a.m. and the run/walk to begin at 8:00 a.m. rain or shine. The registration fee is $20 for individuals and $60 for teams of 4 in advance at http://www.active.com or $25 per person the day of the event. The first 250 registrants receive a t-shirt. All fitness levels welcome.
Each year the Pumpkin Run has participants who run/walk in honor or memory of someone in their lives that has been affected by heart disease. All registration fees will be donated to the American Heart Association to raise awareness and provide education to build healthier lives free of cardiovascular disease. This event has contributed over $62,000 to the association since its first year.
About RJ Young
RJ Young Company is the largest independent office equipment and business solutions provider in the Southeast. They offer the latest technology to scan, secure, share, copy and print information efficiently. RJ Young has been in business for nearly 60 years. They are headquartered in Nashville, Tennessee and have more than 500 employees throughout seven states and 21 locations. For RJ Young's complete range of products and services, visit http://www.RJYoung.com. You can also like them on Facebook, follow on Twitter or read about current trends and technology on their Blog at http://blog.rjyoung.com.
#