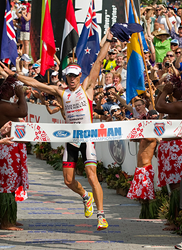 I have brought together a core group of people, my team. Now, I'm going to make them available to everyone in the triathlon community.
Boulder, Colorado (PRWEB) August 29, 2014
Sansego is an online triathlon training website which contains programs, videos, an interactive online community, and a range of personalized coaching services. Sansego caters for all individuals, from beginners all the way to professional athletes. Crowie has brought together a core group of people—his team, which have been with him throughout the majority of his triathlon career. Now, he has made them available to everyone in the triathlon public.
Sansego provides the following:

Free tips and advice from Crowie and his team of coaches
Training Programs for all the triathlon distances
HD Training Videos
An Interactive Online Triathlon Community – The Sansego Club
Private Coaching Consultations
Premium Quality Personalized Coaching
Worldwide Training Camps
For a long time, people have asked Crowie about his training methods, principles, philosophies, and any trade secrets, so he has brought together a core group of people, his team. These are the people that he has utilized throughout his career to advise him on everything from training and racing schedules, diet, recovery protocols, technical analysis, and much more. Now, he has made them available to everyone in the triathlon community through Sansego.
Crowie and his team have put together a range of triathlon training programs catering for all the distances. These programs are unique in that they are based on time availability rather than level of ability. Inside these programs are a range of HD training videos where Craig gives an overview of how to incorporate the sessions within the programs.
There is an online triathlon community called the Sansego Club which has been developed. Inside this portal, triathlon members from all over the world can gain access to Craig and his team of coaches through a private forum as well as monthly group video sessions. One great part of the Sansego Club is the ability for members to interact together, share stories, and learn from one another.
Crowie and his team of triathlon coaches also offer private coaching consultations and personalized coaching where athletes have access to custom one-one-one coaching to help improve their performance and develop them as an athlete. Sansego will also be hosting a range of triathlon specific training camps around the world.
To learn more, please visit http://www.sansego.co.
About Craig Alexander:
Craig "Crowie" Alexander is an Australian triathlete and three-time IRONMAN® World Champion. He won the first-ever 70.3 IRONMAN World Championship in 2008 on his way to becoming one of only a few athletes ever to win back-to-back World titles in 2008 and 2009. Now known as one of the fittest men on the planet, Crowie has broken triathlete records around the world, breaking the course record and being the oldest male in history to win the IRONMAN® World Championship in 2011, earning his triathlon title of "Alexander the Great". Crowie, his wife Nerida, and their three children split their time between their home in New South Wales, Australia and home-away-from-home in Boulder, Colorado.
Here are some of Crowie's sporting achievements:

5 x Triathlon World Champion
3 x Ironman World Champion KONA (2008, 2009, 2011)
2 x Ironman 70.3 World Champion (2006, 2011)
Ironman World Championship Record (2011 - 8:03:56)
Winner of Life Time Fitness Triathlon (2005)
4 x Triathlete of the Year, USA Triathlete Magazine
3 x Male Triathlete of the Year, Competitor Magazine
Endurance Sports Awards

Australian Sports Performer of the Year (2009)
One of 10 Greatest Male Iron-Distance Triathletes of All Time (Inside Triathlon Magazine - 2011)
One of 15 Greatest Male Triathletes of All Time (Inside Triathlon - 2011)
Voted Number 3 - The 25 Greatest Male Triathletes Of All Time (Triathlete Magazine 2014)