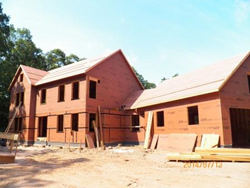 Metal is the ideal roofing material for homeowners looking to invest in their home.
Glastonbury, CT (PRWEB) August 28, 2014
Classic Metal Roofs, LLC of Stow, MA, was recently chosen to partner on a new residential construction project in Glastonbury, CT. The company was selected based on the homeowners' goals to build the most durable, energy-efficient and healthy home possible.
The home, being built by Glastonbury Builders, is utilizing the latest in energy-efficient and sustainable building technology. On a home designed to drastically reduce energy costs while withstanding hurricane-force winds, a metal roof was the most logical option for the project.
"As a company, we firmly believe that metal is the ideal roofing material for homeowners looking to invest in their home while improving its performance and health," said Michael Gonet, senior partner of Classic Metal Roofs. "We are seeing more and more New England homeowners agree with us as they realize the benefits of metal roofing."
The homeowners in Glastonbury chose a combination of Oxford Shingle and ClickLock Standing Seam manufactured by Classic Metal Roofing Systems. Both products are made from 95% post-consumer recycled aluminum and are tested to last a lifetime. The metal roofing design also aids the homeowners in meeting their goals for energy efficiency and performance.
Todd Miller, President of Classic Metal Roofing Systems, says, "We are honored to be included on this revolutionary project. Classic Metal Roofs, LLC is one of the premier contractors in the country and we have full confidence in their craftsmanship and care for customers."
About Classic Metal Roofs, LLC:
Classic Metal Roofs, LLC, a team of residential building science experts and master craftsman, is considered one of the premier installers of metal roofing in New England. They specialize in the installation of lifetime residential metal roofing systems for people who want energy star, environmental, sustainable, or long term solutions for their roofing needs. They believe their metal roofs are 'The Best Roofs under the Sun' and are in business to provide their customers with a worry-free roofing future. Their service area includes Massachusetts, Connecticut, Rhode Island, and Southern New Hampshire. Classic Metal Roofs, LLC works with contractors, architects, and homeowners.