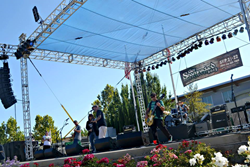 Get Shamrocked Irish Festival in Murrieta -- come see the Young Dubliners, The Mahones, The Real McKenzies, Old Man Markley, and more Sept. 19-21
Murrieta, CA (PRWEB) August 28, 2014
3 days of pure Irish magic with something for everyone, the annual Get Shamrocked Irish Festival is set to take over Murrieta Town Square Park in mid-September, 2014 with some of the biggest names in Celtic music headlining the event.
"Due to our unprecedented success in 2013, this year will be bigger, better and longer," Organizer, Paul Little said. "The Murrieta Chamber of Commerce is instrumental in this year's event. We're thrilled to be working side by side to produce the festival, and the whole community has embraced Get Shamrocked."
Tickets for Friday Night ($10) and Saturday ($20) are reserved for those 21 and over. Sunday ($15 – Kids 16 and under are free) All-ages day, with Irish folk music, storytelling, face painting, and more.
"Tickets are for sale online at http://www.getshamrocked.com, and at the Murrieta Valley Chamber of Commerce, in advance of the event, or can be purchased at the gates (subject to availability)," Little said.
Who is Playing?
Set to perform at this renowned event, superb Celtic bands The Young Dubliners, The Mahones, The Real McKenzies, Old Man Markley, Derek Warfield and the Young Wolfe Tones, Dublin 4, Brick Top Blaggers, Craic Haus, Keltic Cowboys, Quel Bordel, The Bog Hoppers, the American Wake, The Humble Hooligans, Whiskey Sunday, and the Galway Hooker Band.
What to eat?
Expect corned beef, and both traditional Irish and typical American food. Several food trucks will serve both cultural and traditional festival fare.
What to drink?
All who are thirsty can enjoy the event's primary promoters: Guinness and Jameson with a selection of ales to satisfy any taste. "You can't have two bigger Irish brands than that," Little stated.
Schedule of Events:
Friday September 19 (21 and Over) Come and enjoy bands playing from 6 p.m. until 10 p.m.
FRIDAY NIGHT (gates open at 5pm)

6:00-7:00 Keltic Cowboys
7:15-8:30 Old Man Markley
8:45-10:00 The Mahones
Saturday, September 20 (21 and Over) Gates open at 11 a.m., with bands from 12 p.m. until 9 p.m.
SATURDAY (gates open at 11am)

12:00-1:00 Quel Bordel
1:15-2:15 The Bog Hoppers
2:30-3:30 Humble Hooligans
3:45-4:45 Galway Hooker Band
5:00-6:15 Young Dubliners
6:30-7:30 Brick Top Blaggers
7:45-9:00 The Real McKenzies
Sunday, September 21 (All Ages Appropriate) Bands will start at 12 p.m. More traditional, Family Day will include Story Tellers, interactive characters, Irish Dancing, and Bouncers for the kids. 16 and under are free to attend.

12:00-1:15 Whiskey Sunday
1:30-2:30 The American Wake
2:45-3:45 Craic Haus
4:00-5:15 Derek Warfield & The Young Wolfe Tones
5:30-6:30 Dublin 4
Where to Stay:
Comfort Inn Murrieta has a special deal for those wanting to enjoy Get Shamrocked to the fullest, without having to worry about driving. Two blocks from the Murrieta Town Square Park, a walkable distance, and a discount for festival-goers. Call early, as rooms will sell out. Promotion available from their website: http://www.comfortinn.com/ires/en-US/html/ArrivalInfo?hotel=CA712&srp=LSHMRK&pu=no.
Where to Purchase Tickets?
Murrieta Chamber of Commerce: 25125 Madison Avenue, Suite 108. Murrieta, CA 92562
Phone: 951.677.7916
The Shamrock Irish Pub & Eatery 39252 Winchester Rd., Murrieta, CA 92562Phone: 951.696.5252
J Carters 40365 Murrieta Hot Springs Rd., Murrieta, CA 92563 Phone: 951.894.2700
Farmstead Market 41516 Kalmia St., Murrieta, CA 92562 Phone: 951.461.8885
At the festival gates.
MEDIA: Please contact Paul(at)GetShamrocked(dot)com for a complimentary media pass to the Get Shamrocked 2014 event. RSVP by September 15, 2014.
http://www.GetShamrocked.com
24701 Jefferson Avenue, Murrieta, CA 92562
ABOUT GET SHAMROCKED: Get Shamrocked is the new player on the Irish Festival scene in Southern California. Bringing the best Irish and Celtic bands, musicians and creating a weekend of pure Irish magic. With thousands of Celtic revelers expected over three glorious days of music Get Shamrocked achieved legendary status in its inaugural yea in 2103. 2014 will be bigger and better.
About the Murrieta Chamber of Commerce:
The Murrieta Chamber has been active in our community since 1915. We are dedicated to providing opportunities for our members and guests to network, promoting the community, partnering with the City of Murrieta on Economic Development and being the voice for business before government.
Our Mission… to Create and Foster a Sustainable Business Environment in the Murrieta Area through Networking, Promotion and Advocacy.
http://www.murrietachamber.org