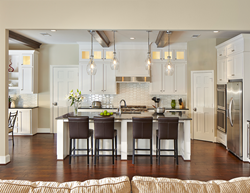 Seeing remodeling designs and renovation work on such a large stage is the goal, it wasn't always possible.
Dallas, TX (PRWEB) September 02, 2014
Attention getting designs for the Dallas bathroom remodel of the Weaver project and Dallas Kitchen remodel of the Parada project provided 2 ARC award category wins for USI Design & Remodeling.
The ARC award evening highlights the Dallas areas best builders with hundreds of entries being boiled down to the final category winners. A few of the 50+ Categories included: Best Kitchen Remodel, Best Bathroom Remodel and Best Whole house remodel.
However USI's most notable achievement was the "Remodeler of the Year" win. With talented Dallas remodelers featuring their best residential remodeling projects for the year, a winning project has to stand-out. Judges are tapped from the building industry and a strict format is utilized to determine which projects deserve recognition of the Dallas Builders Association top remodeling awards.
The "Remodeler of the Year" category in Dallas is based on a combination of category entries, supplier references, customer references and contributions to the industry. USI has earned recognition multiple times, recently that includes, 2012 DBA "Remodeler of the Year".
To view the winning Bathroom and kitchen remodeling projects of USI go to, http://www.usiremodeling.com.
About US:
USI Design & Remodeling is a Dallas and Fort Worth area residential Design/Builder. We specialize in the planning and execution of kitchen and bathroom renovation as well as being a complete interior and exterior residential construction specialist.
Members: NARI, Dallas BBB, Ballas Builders Association, NKBA