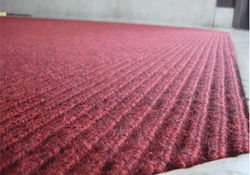 Miami, FL (PRWEB) August 28, 2014
Get proactive in accident prevention. This Labor Day, Eagle Mat and Floor Products announces a special promotion on all commercial mats and facility safety products. From now until September 30th, all online orders qualify for free shipping and are backed by a 100% price match guarantee. Prevent slips, control moisture, and promote brand image with eye-catching mats, runners, umbrella bag stands, and much more from Eaglemat.com.
Fall marks the start of a dangerous time to be in business. In the southeast, tropical storms loom over the Atlantic and threaten coastal cities. Along the mid-Atlantic and northeast, wind and rain quickly transforms sidewalks, entryways, and lobby spaces into dangerous areas for guests to use. And across the United States, Fall marks a critical turning point in retail and storefront traffic. As the lull of summer fades, American businesses must prepare for the spike in customer foot-traffic caused by back-to-school shopping, Halloween, and the coming winter holiday season.
The hustle-and-bustle of Fall shopping is met by businesses and property owners with both excited anticipation, and caution. Slip and fall accidents are among the most common causes for injury and corresponding legal disputes in the United States, particularly among commercial property owners.
To reduce exposure to liability, Eagle Mat recommends businesses and property owners retrofit facilities with new mats to control incoming water, moisture, and debris. To help clients find the right category of safety mat, Eagle Mat invites readers to visit the Eagle Mat Blog for this free mat selection infographic.
Prepare for fall with unbeatable savings on Eaglemat.com. From now until September 31st, commercial businesses save when purchasing safety mats, runners, umbrella bag stands, and other fall safety essentials. This special promotion promises guaranteed low prices and free shipping on all products, making it more cost effective than ever to retrofit facilities with industry leading safety flooring and products.
For more information on products, the terms of this promotion, and order assistance, readers are invited to visit Eaglemat.com or call Eagle Mat Customer Services at 1-877-333-1018.