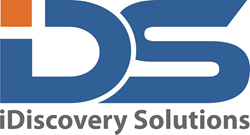 Washington, DC (PRWEB) August 28, 2014
iDiscovery Solutions, Inc. (iDS), named this week to the Inc. 5000 list as one of America's Fastest Growing Private Companies, is pleased to announce the addition of Blair Hayes (Manager), Michelle Green (Project Coordinator), and Nate Pulver (e-Discovery Analyst) to its growing staff of experts and industry professionals. iDS is an award-winning, legal technology expert services firm specializing in, but not limited to, discovery, digital forensics, processing and hosting, data analytics, international data privacy, and expert testimony.
Mr. Hayes brings over 12 years of advanced, in-depth experience analyzing, advising, and processing electronically stored information (ESI) in both the public and private sectors. From early case assessment and project rollout through management of complex review cases and final document production, he has advised and worked side-by-side attorneys, document review teams, and IT personnel to ensure successful project outcomes. Mr. Hayes is proficient at designing and implementing high-end document review protocols and workflows and is well versed in the industry's best practices. Prior to joining iDS, he was a Project Manager of Legal Services at DTI and a Litigation Support Project Manager at Bryan Cave.
Ms. Green provides project coordination and management throughout the various phases of the EDRM lifecycle. She has vast experience in creating and maintaining project documents and reports, monitoring project schedules and deliverables, and facilitating communication within the project team, as well as to the client. Prior to joining iDS, Ms. Green worked as an Analyst at Dickstein Shapiro LLP, where she was responsible for managing various technical and non-technical projects.
Mr. Pulver, located in the Costa Mesa office of iDS, has extensive experience with processing and hosting related e-Discovery tools. A Relativity Certified Administrator, he assists in all aspects of Relativity workspace management, including but not limited to, creation and data loads, search index supervision, data analytics, coding layouts, and productions. Prior to joining the iDS team, Mr. Pulver was a Senior ESI Consultant at Marathon Document Solutions and Director of e-Discovery for Precision Discovery Inc.
"We are excited to add some tremendous professionals to our team at iDS," remarked Julian Ackert, Managing Director. "Blair's vast experience with project management and complex data cases makes him an outstanding addition to the firm, and Michelle will add an extra level of top project coordination in our DC office. We are delighted to have them on board."
Jim Vaughn, Managing Director and head of iDS' West Coast operations commented, "Nate has an invaluable combination of being a Relativity Certified Administrator and hands-on experience working on numerous matters over the last several years. He has wasted no time displaying truly outstanding teamwork and we are very excited to have him as part of the iDS family."
To learn more about employment opportunities at iDiscovery Solutions, including descriptions of available positions, please visit http://www.idiscoverysolutions.com/careers.
About iDiscovery Solutions
iDiscovery Solutions, Inc. (iDS) is an award-winning, global, legal technology expert services firm. Founded in Washington, DC, in 2008 by industry veterans with more than 50 years of litigation and consulting experience combined, iDS provides consulting, data analytics, processing and hosting of electronically stored information (ESI), and expert services in the areas of electronic discovery, digital forensics, and enterprise applications. iDS also provides subject matter experts that testify as to how technology works, generally and specifically, within the context of litigation, investigations, and government inquiries. For more information, visit http://www.idiscoverysolutions.com and follow the company on Twitter @iDiscoveryInc.