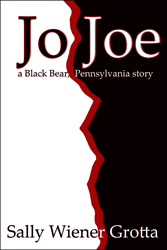 We distrust because we're distrusted. And it starts to spiral out of control…. Now our survival depends on us breaking through,… [We need ] to fight our tribal instinct and reach across the divide.
(PRWEB) August 28, 2014
Book of Life Podcast host Heidi Estrin interviewed Sally Wiener Grotta, the author of the novel "Jo Joe" (Pixel Hall Press), just as a major storm -- including tornadoes -- hit Boca Raton, Florida. "This is nothing new," Sally quipped as she sat down to the microphone. "I feel like I've been in the middle of a whirlwind ever since 'Jo Joe' was published." The critically acclaimed novel has been receiving significant attention and rave reviews. Beyond being a beautifully crafted story about people readers learn to care about, "Jo Joe" is now being used by schools & organizations to help generate honest discussions about diversity, prejudice, bullying, and reaching across the Ethnic/Racial divide.
Not that Sally set out to write a story about prejudice. It started with a character born out of her imagination: Judith Ormand. Judith is "a young, mixed race Jewish woman who was raised by her white Christian grandparents in a small village that is entirely white and entirely Christian," Sally told Heidi on the podcast. "And, as a young Black woman, she experienced great prejudice, and developed quite an anger, her own sense of prejudice. Because prejudice is a two-way street. She vowed that she would never return. But she returns when her grandmother passes away….. During that one week, she has a horrible run-in with the white boy who broke her heart, and comes across a bully who threatens worse. She also uncovers a secret that her grandmother kept from her that makes her question her understanding of the prejudice that scarred her."
Readers of all kinds of backgrounds -- especially Jews and African Americans -- identify deeply with Judith Ormand, the protagonist of "Jo Joe." And that has led to interest in the novel, not only as a literary experience, but as a book to study and share in Diversity and Multicultural programs and classes. No wonder Sally feels like she on a whirlwind ride, as she continues to receive invitations to speak to groups.
"So often," Sally explained, "prejudice is the uncertainty of meeting a stranger. You don't really know how to talk to that person….. We distrust because we're distrusted. And it starts to spiral out of control…. Now our survival depends on us breaking through,… [We need ] to fight our tribal instinct and reach across the divide."
For Further Information & Contact
To discover what all the rave reviews are about, read a complimentary excerpt of "Jo Joe"
Book club leaders, teachers and other discussion leaders are welcome to download a complementary Study Guide for "Jo Joe."
Members of the press seeking interviews or review copies of "Jo Joe," and event organizers looking to book Sally Wiener Grotta for an appearance should contact Cynthia Dadson of Pixel Hall Press, cynthia[at]pixelhallpress[dot]com.
"Jo Joe" is available in hardbound, paperback and eBook editions at all bookstores, including Amazon,Barnes & Noble and a neighborhood independent bookstore.
About Sally Wiener Grotta
Sally Wiener Grotta is the consummate storyteller, reflecting her deep humanism and appreciation for the poignancy of life. An award-winning journalist, she has authored many hundreds of articles, columns and reviews for scores of glossy magazines, newspapers and online publications. She has also co-authored numerous non-fiction books; her next novel (which will be published in November) will be The Winter Boy.
A member of the American Society of Journalists & Authors, Sally Wiener Grotta is a frequent speaker at conferences and other events on Reaching Across the Ethnic/Racial Divide and Creativity. She welcomes invitations to participate in discussions with classes, organizations and book clubs, and to do occasional readings.
About Pixel Hall Press
Pixel Hall Press is a relatively new, old-fashioned small publishing house whose focus is on discovering literary gems and great stories that might otherwise be overlooked. Our mission is to publish books that energize the imagination and intrigue the mind, and to be a conduit between readers and provocative, stimulating, talented authors.
In this era of digital technology, Wall Street involvement and merger mania, many mainstream
publishers seem to have lost sight of core principles and the purpose of publishing. At the other end of
the spectrum is the veritable avalanche of self-published books that are notoriously uneven in quality.
Small boutique imprints like Pixel Hall Press are reclaiming the heart and soul of publishing by reviving
the idea that a publisher's "raison d'être" is finding and nurturing great writers, and to provide readers
with beautiful, meaningful, truly enjoyable books.