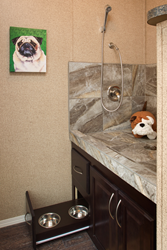 We've added several special features to enhance the home life and create more opportunities for interaction between pets and their owners.
Maryville, TN (PRWEB) August 28, 2014
Clayton Homes, a builder of manufactured homes, is introducing luxury living to its four-legged fans in the form of custom features designed specifically for pets.
Clayton Homes has recognized the need for homes with pet-efficient features that include innovative spaces and details specifically designed for animal lovers. As the number of families with pets grows, so does the demand for homes to suit the lifestyles of these furry family members. According to the American Pet Products Association, 68 percent of American households (or 82.5 million homes) have pets, and it is estimated that Americans will spend close to $59 billion on pets this year.*
"When you're buying a home, it's important that you consider every member of the family, and pets are a part of our families," said Clayton Homes CEO Kevin Clayton. "We've added several special features to enhance the home life and create more opportunities for interaction between pets and their owners."
Southern Energy Homes of Texas, a subsidiary of Clayton Homes, builds one of the most popular pet-friendly home designs called The Ashford. This home offers optional pet friendly features such as:

Convenient pet wash station in the home's mudroom
Stow-away pet food and water dish drawer
Window seating – which the furry friends love so they can see outside
Enclosed sunroom for outside meals - where pets can enjoy the weather safely, without wandering off
High-end kitchen upgrades such as custom backsplash, stainless appliances, an island and marble countertops give customers a truly modernized home so they can enjoy the home just as much as their pets.
Take a virtual video tour or view the photo gallery of The Ashford.
"Pets have always been cherished, but now they play an even greater role in their owner's lifestyle decisions," said Clayton. "As a result, more pet owners are considering their pets' needs when looking for a home, and we want to support that and be advocates of that special bond. Our affordable options also offer an alternative to renting, which often inhibits a family from owning a pet of their own."
For more information about pet friendly features offered by Clayton Homes, or to find a local Home Center to tour a home, visit ClaytonHomes.com.
About Clayton Homes
Clayton Homes has built homes since 1956, winning multiple awards for design and construction. Through its affiliates and family of brands, Clayton Homes builds, sells, finances, leases, and insures manufactured and modular homes, as well commercial and educational buildings. Clayton Homes is a vertically integrated Berkshire Hathaway company whose purpose is opening doors to a better life, one home at a time.
*American Pet Products Association's "U.S. Pet Industry Spending Figures & Future Outlook" for 2014.
# # #