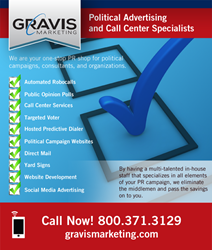 Having accurate voter lists in all 50 states gives us the ability to offer a turnkey solution with consulting services. This will reduce costs and provide a better experience. for our clients Said Doug Kaplan President Of Gravis Marketing
Winter Springs, Florida (PRWEB) August 27, 2014
Through our latest software, Gravis Marketing is now offering even more accurate voter lists that are available for all 50 states. With the increased use of social media in the last couple years, the Gravis Marketing voter list information has been expanded to include email addresses, cell phone numbers and other methods of contact that will help your campaign reach registered voters with a higher degree of accuracy.
In addition to expanded information on voter lists Gravis Marketing is now offering append services.
This service provides more extensive voter data which enables your campaign with more targeted data and more choices. This is an easy way to learn about the voters in your district. Information includes voter demographics, household and lifestyle information, buying trends, and behavior trends, allowing you to understand your voters better. Targeted information has the ability to provide messages that will reach the core of your voters' concerns and encourage them to vote for you and what you represent. This improves response for direct mail, digital and phone calls.
As technology increases, so does your ability to target voters regarding the causes they care about the most. Presenting voters with a message they care about gets their attention.Accurate voter lists and new append services provides the customer with up to the minute data that will help you win the next election.