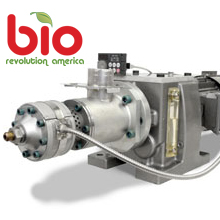 (PRWEB) August 28, 2014
Earlier this month, a report was created by Colorado State University in partnership with the U.S. Air Force on the performance of vehicles using an eco-friendly, oilseed biofuel. The results indicated that this type of fuel made from mustard seeds, offered great potential as biofuel feedstock and will be important to America's Eco friendly future. In fact, every branch of the U.S. military now has a mandate to become independent of foreign oil over the next few years. They will need to begin using alternative fuels that are cost competitive, domestically produced, and have a lifecycle greenhouse gas footprint equal to or less than petroleum. Additionally, Department of Defense (DOD) officials have said that any alternative fuels for DOD operational use must be derived from a non-food crop feedstock. What's needed though? In short, alot of small American farmers growing the mustard seed plants and proving the concept by becoming profitable.
Concurrently Bio Revolution America, a company that produces "green" biofuel, is currently running a 45 day crowdfunding campaign to raise $60,000 and begin funding operations in Appalachia and beyond. They have a very ambitious plan to work with several universities to help poor family farmers grow and process Sunflowers, camelina, carinata, pennycress and other mustard seed plants. These plants are the ones found to be the most effective and efficient in the studies and which are not generally part of the food supply. The success of these farmers can help create a large enough market to entice other farmers across the nation to jump in as well.
In conjunction, they recently added a chance to win a free iPhone 6 for anyone who uses the share buttons on the campaign page to get the word out. The person that gets the most visits and/or donations from their referrals (over 100 to qualify) after the conclusion of the campaign will receive a brand new iPhone 6! You do not need to buy anything or donate to qualify. You only need an Indiegogo account so your referrals can be tracked.
Spokesperson for Bio Revolution America, Randall Richards states, "By working with local universities and nonprofits we are connecting with about 4,000 farmers in Appalachia right now. We're raising money through Indiegogo crowd funding to bring in seeds, farming expertise and new technology for the farming families, all free to the farmers. If they can grow these seeds and we help them create what's been called 'Super bio fuel' then in a year or so farmers all across America will jump in once the market for the new fuel is large enough. This will expand across the U.S. and meet the need for an organic, cleaner, more efficient and renewable fuel. This includes the military, but also the other large fuel users like airlines and trucking industries." Richards continues, "We know this is a serious challenge, but it can also solve serious problems in our country and the world. It's certainly worth doing! It's time for a bio revolution."
Some of the numerous problems with the production and use of Ethanol include:

It takes more energy to produce than it gives back when used as fuel
The process of turning corn and soybeans into Ethanol is very polluting to the earth as highly caustic chemicals are required and are then dumped into the earth.
Ethanol cannot be refined enough to be used in jet engines. Jets both military and commercial are the single biggest users of petroleum fuel in the world!
Ethanol is only slightly less polluting than pure petroleum.
Among the many benefits of using the new seed plant bio fuel include:
Lower cost to produce
It can be grown anywhere in North America
Less need for water, fertilizer, and can be grown organically.
It needs no chemicals in the production process
It produces several times the energy needed to produce it
It can be crop rotated more often without hurting the soil.
It does work exceptionally well in jets! It produces about 80% reduction in emissions over petroleum. At the same time it produces about a 25% increase in efficiency, meaning it will make engines use less fuel and get more mileage.
The feed meal produced from the oil extraction process is very high in protein and Omega 3 which makes it a fantastic feedstock for farm animals.
It can be grown in crop rotation with food plants like wheat, soy, and corn while enriching the soil
To help grow the market for the new seed based biofuel and support Bio Revolution America's campaign for a 'greener' more sustainable fuel solution, please visit their Indiegogo page at http://igg.me/at/BioRevolutionAmerica/x. They are currently have raised approximately $21,000 of their $60,000 goal and their campaign will run until September 17th.
About Bio Revolution America:
Our American made, patent pending seed oil extractors are helping poor farmers in Appalachia make 100% natural Bio fuel & 280 organic food, health products. We will employ many in local communities to farm and process bio fuel and many other by products including health foods, protein feed stock, all natural hair and skin products, and hundreds more organic household products.With the help of numerous nonprofit agencies in these communities we are connecting with over 2,000 of the poorest farmers throughout Appalachia. These poor but proud, hardworking farmers will now have a new way to make income growing the very plants whose seeds will be the new bio green energy revolution in America! There is already a huge and growing available market for the fuel oil and other by products across the country, and after harvesting they will get the seeds from the farmers, extract the bio oil and by products. Pay the farmers on the spot for their harvests! Then process and ship the products to the end users all over America. Causing a true bio revolution in our country and around the world finally! For more information please visit our website at http://www.biorevolutionamerica.com/ or Facebook page at https://www.facebook.com/BioRevolutionAmerica.
Media Contact:
Randall Richards, 386-785-5054
Bio Revolution America
randallr(at)biorevolutionamerica(dot)com