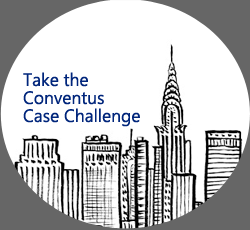 Mrs. Bumble is outraged when the receptionist requests payment of an outstanding bill when she checks in for her appointment with Dr. C...
Woodbridge, NJ (PRWEB) August 28, 2014
Only three of the New Jersey physicians and their staff that entered the Conventus Case Challenge last week got the answer spot on. The case, the first in a series of five about the medical and practice challenges faced by Mrs. Bumble and her primary care provider, Dr. C., asked what type of appointments would be best when dealing with multiple co-morbidities, diabetes mellitus, and an open leg sore.
The second Conventus Case Challenge has been posted for entries:
Mrs. Bumble is a 74 year old with diabetes mellitus and multiple co-morbidities. She arrives for her appointment with Dr. C. complaining of an open leg sore. The receptionist requests payment for an outstanding bill and she becomes extremely agitated. She states that she has insurance coverage and doesn't owe the office anything.
How would you avoid this scenario?
[ ] Demand payment at the check-in desk before the appointment.
[ ] Reschedule the appointment after the patient pays the outstanding bill.
[ ] Have the biller talk to Mrs. Bumble prior to the clinical exam.
[ ] Discuss the outstanding bill and payment arrangements with the patient prior to the scheduled visit.
The Conventus Case Challenge offers those who answer each of the five Case Challenges a random chance to win a fabulous night out in New York City that includes dinner at a four-star restaurant for two, two tickets to the Broadway show of choice, and limousine service to and from New Jersey. The contest is open to New Jersey physicians who are not currently members of Conventus and their practice/office managers. No purchase is necessary.
To enter and see complete rules visit http://www.conventusnj.com/contest/