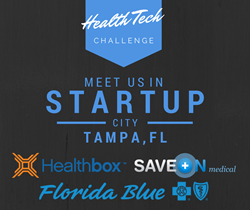 Save On Medical is essentially the Hotels.com of health care shopping.
Tampa, Florida (PRWEB) August 28, 2014
Save On Medical (http://www.saveonmedical.com) has been accepted into the Healthbox tech accelerator program in Tampa. Healthbox Florida has teamed up with Florida Blue to help seven innovative healthcare companies grow and achieve their goals.
Healthbox unveiled their seven portfolio companies this Tuesday, August 16th, at their launch event at the Mahaffey Theater to over 100 of Florida's top healthcare innovation professionals.
Co-founder Matt Schneider commented on the Save On Medical's involvement with Healthbox saying, "We are excited about the unique partnership opportunities provided to us through Healthbox and Florida Blue. It will give us the chance to reach more patients, by offering a wider variety of procedures and expanding into new cities."
Currently, Save On Medical lists pricing for providers in over 30 states and has over 1,000 imaging centers on the site. The states include California, Florida, Texas and New York, which are well known for their high patient-consumer populations.
With the support of Healthbox, Save On Medical is excited to transform the way patients shop for their healthcare, including those who are uninsured and those in high-deductible health plans.
About Save On Medical:
Save On Medical is an ecommerce startup website that uses price transparency to help patients shop for affordable healthcare. Patients can search in their city to find providers that offer the procedures that they need. Then, they can compare costs and quality scores at various locations, decide which provider is the best fit for them and be confident that they are getting the best care at the lowest price possible.