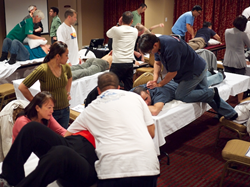 Astoria, NY (PRWEB) September 02, 2014
Headaches, both chronic and acute ruin lives. They can prevent the individual from going to work, enjoying family and friends, sleeping and just coping well with daily activities. And back pain is the single leading cause of disability worldwide. The medications prescribed for these conditions frequently don't work and do carry serious risks.
Most of these cases of headache and back pain are of a mechanical origin, so trying to treat them with prescriptions will not detect and fix the cause.
When a sports enthusiast wrenches his or her back, or a warehouse worker pulls a muscle lifting a crate, or a mom twists her back putting her little girl in her car seat, the actual mechanical problem needs to be found and corrected with proper physical therapy techniques.
Next month, in Houston, with the Hands-On Seminars training, physical therapists will learn A Comprehensive Manual Therapy Approach for Cervical Spine Pathology. With what they learn in this course these professionals will have the tools to diagnose and treat back and neck pain.
Here's what the seminar instructor Janelle Allen has to say, "Headaches are a very common diagnosis often seen by PT's. Patients who are treated for headaches are often treated first by prescription drugs. The assumption regarding headaches is that they are chemically induced. Unfortunately this is not the case. The majority of all headaches are mechanically induced. These include Myofascial Trigger Points, neural tension, or a facet joint dysfunction. So how do we treat patients with a headache that do not present with an aura and is mechanically induced? Hands-On Seminars offers treatment solutions to these complicated headache cases. PT02 Cervical course will teach various manual techniques to resolve headache issues." – Janelle Allen
On September 27-28, 2014 health care providers in the Houston, TX region will have the opportunity to attend a 2-day advanced, comprehensive training course in A Comprehensive Manual Therapy Approach for Cervical Spine Pathology. This seminar teaches the most successful approaches for the evaluation and treatment of mechanically induced pain.
Participants will learn advanced diagnostic and treatment techniques for low back pain and will participate in extensive lab sessions. Instruction includes utilizing advanced multimedia methods.
The material covered in the seminar is appropriate for PTs, PTAs, OTs, OTAs, LMTs, ATCs and Physicians. On completion of this course participants will receive 16.8 CEUs.
Hands-On Seminars, Inc. (HOS) is the leading international continuing education organization in the world, awarded the Lecture & Seminars Award as the best Lecture and Seminar Company from the Lectures and Seminars Bureau over the past two years. Their purpose is to provide the best quality Manual Therapy seminars at an affordable cost. For further information, please contact Hands on Seminars: Alexandra Rosner at 888-767-5003 or info(at)handsonseminars(dot)com.
###