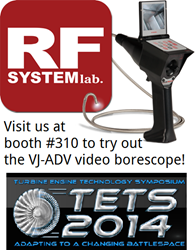 (PRWEB) August 28, 2014
A sold out exhibit hall, an audience of approximately 1,000 engineers, managers, scientists, and operational personnel from the turbine engine community, and three days of technical presentations is what attendees can expect from the 2014 Turbine Engine Technology Symposium (TETS). The symposium is coming up September 8-11, 2014 at the Dayton Convention Center in Dayton, Ohio. RF System Lab is excited to be exhibiting at TETS for the first time and is looking forward to connecting with engine and aircraft manufacturers, military professionals and industry leaders.
The event website provides insight into what to expect from this year's TETS Symposium. Some highlights include Maj Gen Thomas Masiello, AFRL Commander and Gen Janet Wolfenbarger, AFMC Commander. In addition, the TETS agenda promises segments with titles such as "Importance of Innovation in Adapting to Evolving Weapon System Needs," "Lockheed Martin Perspective," and "The Golden Age of Propulsion."
RF System Lab's Edward Thomas is one of the exhibitors who will be onsite in this year's sold-out exhibit hall. He will be presenting the VJ-Advance (VJ-ADV) video borescope at booth #310. Make sure to stop by and try out the VJ-ADV's joystick-controlled 4-way articulation and say hello to Edward Thomas, who is looking forward to showing TETS attendees the best practices for remote visual inspection of turbine engines.
Demo the VJ-Advance at booth #310 in the Dayton Convention Center starting at 8:30am on Monday, September 8th, 2014. For more information, call RF System Lab toll free at (888) 747-6526.
RF System Lab, developer of the VJ-Advance video borescope, is a worldwide leader in remote visual inspection and video borescope technology. The VJ-Advance is a perfect fit for a wide range of applications and inspections. RF System Lab is so confident in the VJ-Advance that they offer a no-cost, no-obligation demo program. Sign up for your free demo unit today.