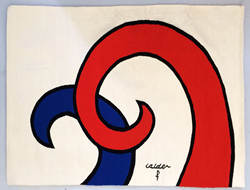 "This is a rare opportunity for Calder collectors to obtain five of the six pieces created for the Bicentennial Series."Kate Wilkins -Modern Specialist
Beverly, Massachusetts (PRWEB) September 02, 2014
Kaminski Auctions Twentieth Century, Modern Design and Contemporary Fine Art auction on September 7th, 2014, features a rare console table by renowned sculptor, Diego Giacometti. "The Console Aux Oiseaux "is signed "Diego," once on the underside of a horizontal support. This exquisite console table exemplifies Giacometti's common use of animals as design elements. While the subject matter is common, this particular design is a rare discovery for twentieth century art collectors.
A similar bronze and glass console table sold in April 2014 for $1,762,500. This was a world auction record for Diego Giacometti. That particular piece was titled "Chereuil, Biche et Bambi" and had been commissioned by the French fashion designer Serge Matta, brother of Surrealist painter Roberto Matta.
Alexander Calder enthusiasts will be excited to see five of the Calder Bicentennial Tapestries in the sale. In celebration of the bicentennial of the American Revolution, Calder designed a set of six tapestries. Hand-woven in wool by the Atelier of Pinton Frères, in Aubusson, France, circa 1975, these rare examples are from a limited edition of 200.
All five possess a low edition of either #36 or #37 and are signed accordingly by Calder. Works include from "The Bicentennial Series: Le Sphere et les Spirales (Sphere and Spirals), Les Palmiers (The Palms), La Tache Bleue (The Blue Blob), Trois Spirales (Three Spirals) and Les Vagues (The Waves)."
Calder died the same year, shortly after these tapestries were created. This is a rare opportunity for Calder collectors to obtain five of the six pieces created for the bicentennial series.
Other highlights include a Roy Lichtenstein, untitled oil on canvas. This painting by Lichtenstein is not indicative of his more iconic pop-art pieces and predates the rise of the new art movement. This work would have been created during the time Lichtenstein spent teaching at the State University of New York, Oswego and reflects his brief attempts to appreciate and employ Abstract Expressionism.
The piece is descended directly from the estate of artist Joseph B. O' Sickey. O' Sickey is a graduate of Cleveland institute of Fine Arts and has been widely exhibited in his own right. His personal collection suggests a distinguished network of well-known modern and contemporary artists with whom he may have regularly traded work.
Similarly rare is a work by Donald Sulton, oil and tar on paper, titled "Yellow Tulip #18". The artist himself, who mentioned that there is only one other similar piece in existence, owned by the artist's daughter, recently reviewed this piece.
A full catalog for the sale is available online at http://www.kaminskiauctions.com. Preview for the sale will be held Tuesday through Saturday, September 2nd through 6th at the Kaminski auction gallery, from 10:00 am to 5:00pm daily. The auction will take place Sunday September 7th, beginning at 10:00 am, with preview to precede the sale beginning at 8:00am. Online bidding will be available through the Kaminski LIVE bidding platform.