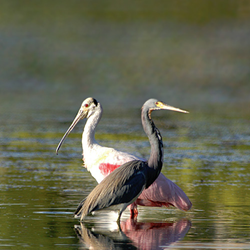 'Tampa Bay Water mini grants support our educational efforts, which engage bay area citizens and students to become lifelong stewards of our environment.'
Clearwater, FL (PRWEB) August 28, 2014
Tampa Bay Water is offering $20,000 in mini-grants to help fund projects and events sponsored by local community groups, non-profit groups, schools and universities that help promote protection of the region's drinking water sources.
The deadline to apply for a grant is Oct. 31, 2014 at 5 p.m. Applications can be found online at http://www.tampabaywater.org/source-water-protection-mini-grant-funding, or by contacting Paula Dye, Tampa Bay Water's mini-grant program manager, at 727-796-2355 or 813-996-7009.
To qualify for the grant, applicants must provide a plan for a project or event that is related to source water protection in the Tampa Bay Water service area. The program grants funds from $2,000 to $10,000 for community-based activities including but not limited to: river clean-ups, storm water nature walks and educational field trips.
"Tampa Bay Water looks to partner with our community to guard our most precious resource," said Paula Dye, mini-grant program manager at Tampa Bay Water. "The mini-grant program helps those who are dedicated to protecting our region's drinking water sources, and it ensures that our ecosystems remain healthy and functioning now and into the future."
Last year, Tampa Bay Water awarded four $5,000 mini-grants that funded projects and events managed by the Lowry Park Zoo, Keep Tampa Bay Beautiful, Keep Pasco Beautiful and Friends of Brooker Creek:

Lowry Park Zoo raised their outflow structure to reduce the amount of wastewater discharge during heavy rain events. This project helped keep a Hillsborough River tributary clean.
Keep Tampa Bay Beautiful used the grant to fund their environmental education program, which includes interactive, fun and educational presentations and outreach to K-12 students throughout Hillsborough County.
Keep Pasco Beautiful ran a poster contest for elementary students that focused on educating them about the importance of protecting our drinking water sources.
Friends of Brooker Creek built an exhibit at the Brooker Creek Preserve in Pinellas County. The hands-on exhibit illustrates the elements of the water cycle and how surface and groundwater flows move though the watershed.
"Keep Tampa Bay Beautiful believes that protecting water at the source is an important way to ensure the health of humans, ecosystems and economies," stated Patricia DePlasco, Development & Community Relations Director for Keep Tampa Bay Beautiful. "Tampa Bay Water mini grants support our educational efforts, which engage bay area citizens and students to become lifelong stewards of our environment."
"This grant helps Tampa's Lowry Park Zoo share a water conservation success story with almost a million visitors a year," stated Craig Pugh, CEO of Lowry Park Zoo. "Source water is a precious resource. This project helps the Zoo manage it wisely, which is important because whatever we do in Tampa affects the water we drink." Pugh added, "With the support of Tampa Bay Water, we are able to manage storm water better by preventing discharges from our largest retention pond into Hamilton Creek, which is a tributary of the Hillsborough River. We are meeting the requirements of our FDEP wastewater permit, and modeling responsible actions to protect the community's source water."
All mini-grant applications received will be reviewed and screened against the program's selection criteria. Organizations receiving a mini-grant will be notified before the end of 2014 and funds will be granted in 2015.
About Tampa Bay Water
Tampa Bay Water provides wholesale water to the public utility systems of Hillsborough, Pasco and Pinellas counties, as well as the cities of New Port Richey, St. Petersburg and Tampa. To learn more about Tampa Bay Water, please visit http://www.tampabaywater.org.