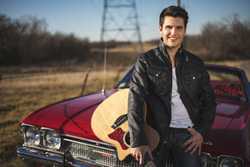 I'm so excited and thankful for this opportunity.
Atlanta, GA (PRWEB) August 28, 2014
AMTC graduate, rising star and The Voice Season 5 contestant Brandon Chase was recently named one of the Top 10 finalists for Pepsi's Southern Original. He's heading to Panama City where he has a chance to open for his mentor and coach from The Voice and country music superstar Blake Shelton. Chase will be competing for the coveted opening slot on Thursday, August 28th at 9:00 pm at Tootsie's at Pier Park in Panama City, FL. The winner at the competition will perform at the Gulf Coast Jam main stage on Sunday, August 31 at 4:30 pm before headliner Shelton. 
"I'm so excited and thankful for this opportunity," says Chase. "It would be so cool to reconnect with Blake outside of The Voice." 
The competition concert at Tootsie's is open to the public and "Chasers" can get discounted tickets to the Gulf Coast Jam by using "chase14" at http://gulfcoastjam.frontgatetickets.com. Chase will also be a special guest correspondent for Got Country's Gulf Coast Jam coverage. 
About Brandon Chase 
Country music artist Brandon Chase is nothing shy of a miracle. Only a few days old, Brandon quit breathing 64 times in 12 hours and was told by doctors he could be deaf, blind, mentally impaired, or possibly all three. Not only did the Arlington, TX native not suffer any complications from his childhood, he instead went on to graduate high school at the age of 15. He then completed his masters certificate in songwriting from Berklee College of Music at the age of 17. Brandon taught himself how to play the piano and guitar and has been writing his own original music since the age of 14. Brandon was featured on iTunes "New and Noteworthy" and also "Rising Stars of Country," following the release of his latest EP "Country Enough". His most recent achievement was appearing multiple times on season 5 of NBC's The Voice as a member of Blake Shelton's team. Brandon is currently recording new music set to release in 2014. His debut single, "One," hit country radio on March 4th. He was featured as Seventeen Magazine's "Crush Of The Week," where they exclusively premiered the music video for "One," in conjunction with his first ever CMA Music Festival this year! He was also featured on CNN's Morning Express With Robin Meade in June. 
For more information, visit http://www.brandonchasemusic.com, http://www.facebook.com/brandonchasemusic, @brandonjchase, http://www.youtube.com/brandonchasemusic
To read about Actors, Models and Talent for Christ, visit http://www.amtcworld.org.