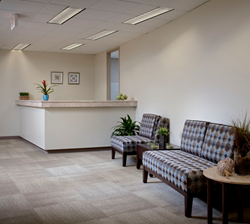 "Adding a few offices in the 100-120 square foot range will add options for those with smaller budgets."
New Orleans, LA (PRWEB) August 28, 2014
Icon Offices, the local New Orleans company owned by Rachel Sonn, will complete its first of three planned expansions by the end of 2014. The company, which offers individual offices to professionals in downtown New Orleans, opened in March of 2013 and is already at capacity.
"We knew going in that we would need to add more offices," Sonn explains. "The existing footprint included some underutilized spaces which were well-suited for an eventual buildout."
The new offices will be fully private and built to the same standards as the existing offices offered by Icon. The only difference is that some of them are slated to be smaller.
"Our current offices are all fairly large for executive suites," says Sonn. "Every one is over 150 square feet. That's great for someone who wants some space, but adding a few offices in the 100-120 square foot range will add options for those with smaller budgets."
Icon's current offices range from $500-$700/month including all utilities and furniture. Five of the new offices will be priced between $350-$400/month.
"There's actually a lot of demand for these smaller and less-expensive offices," Sonn says. "Non-profits and start-ups love them -- the modern worker typically needs less furniture and computer space, and the cost savings is well worth the sacrifice in space to these tenants. When you factor in our free conference room use and reasonable phone and Internet prices, I suspect these smaller offices will be leased almost immediately. I've already started a list of interested parties."
All of the new offices will be created from a previously-unused training room within the existing space, which is located on the sixth floor of the Exchange Centre at 935 Gravier, New Orleans, LA. To learn more and see photos of the new offices, visit http://www.iconofficesneworleans.com or contact Rachel Sonn at (504) 428-4959.
About Icon Offices: Icon Offices is a locally owned company founded in 2013 by Rachel Sonn. Icon offers fully furnished, turnkey office space in downtown New Orleans.
Media Contact:
Rachel Sonn
(504) 428-4959
Rachel(at)iconofficesneworleans(dot)com
http://www.iconofficesneworleans.com