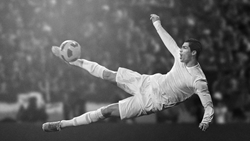 We are proud to represent Tag Heuer for all these years and look forward to the new campaign with Cristiano Ronaldo. - Stan Razny, Owner of Razny Jewelers
Chicago, IL (PRWEB) August 28, 2014
Cristiano Ronaldo is the newest ambassador for Tag Heuer. Just as Cristiano Ronaldo reinvented the way to play football, the TAG Heuer Carrera challenged the classical image of a gentleman's watch by embodying the bold spirit of the legendary Carrera Panamerica Race. Ronaldo represents the apotheosis of the modern game. Fearless in his determination to break every record and win every honour, he is, like TAG Heuer, a path-breaker, a Time Changer who refuses limits and, no matter what, never cracks under pressure.
Razny Jewelers represent the Tag Heuer brand in both their Addison and Highland Park locations.
"We are proud to represent Tag Heuer for all these years and look forward to the new campaign with Cristiano Ronaldo."- Stan Razny, Owner of Razny Jewelers
About Razny Jewelers:
Razny Jewelers is family owned & operated. The Razny Family represents the world's top brands and offers custom creations. For over 60 years, Razny Jewelers has defined the essence of what a fine jewelry store should be to their clientele. Razny Jewelers is dedicated to the best combination of old-world and modern values. They are one of the only jewelers in the Chicago area that fabricates custom creations truly by hand. With several bench jewelers on staff, custom jewelry remains their specialty. Their careful attention to perfection & unrivaled craftsmanship turns dreams into reality. Razny Jewelers' integrity, honesty & commitment to unparalleled personal service bring their customers back time after time.
About TAG Heuer:
In 2010, TAG Heuer proudly celebrates 150 years of pioneering Swiss watchmaking. Founded in Saint-Imier in 1860 by Edouard Heuer, TAG Heuer has set many major milestones of high-end watchmaking, especially in the field of chronographs and ultimate precision. Today, one of the largest and most desired brands in the luxury watch industry, the Swiss legend draws upon its active engagement in the world of sports to create the most accurate timing instruments and watches in the world. TAG Heuer is the first watchmaker to master luxury chronographs with an unsurpassed precision of 1/10th, 1/100th and 1/1,000th of a second. From the Olympic Games in the 1920s to its role as official timekeeper for the legendary Indy 500 race, with accuracy at 1/10,000th of a second, TAG Heuer, in a constant quest for innovation, excellence, performance and prestige, continues to aim ever higher. This is reflected in its quarter-century partnership with F1 team Vodafone McLaren Mercedes, its 7-year partnership with 2008 Formula 1 World Champion, Vodafone McLaren Mercedes driver Lewis Hamilton, and his new teammate , 2009 Formula 1 World Champion Jenson Button. TAG Heuer, more than ever, epitomizes prestige and performance through active partnerships with Hollywood icon Leonardo DiCaprio and Bollywood star Shah Rukh Khan, LPGA star Suzann Pettersen and WTA tennis champion Maria Sharapova. TAG Heuer is a privileged member of the Fondation de la Haute Horlogerie (FHH), the most exclusive club in the Swiss watchmaking industry. The newest addition to the TAG Heuer legacy is the Calibre 1887, an in-house, Swiss manufactured, integrated column-wheel chronograph movement that pays tribute to the original Heuer oscillating pinion of 1887, one of the brand's first patents and a major benchmark in modern watchmaking. From March through October 2010, TAG Heuer's revolutionary and ecologically conscious "Odyssey of Pioneers" exhibit, the first-ever round-the-world trip in a 100% electric car designed specifically by Tesla Motors for TAG Heuer, will showcase in Olympic flame fashion the brand's past, present and future collections across 15 key cities of the world.