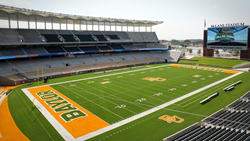 We are excited for Aledo High School and Cedar Park High School to continue their games on our Matrix® Turf and be the first to play at Baylor University
Waco, TX (PRWEB) August 28, 2014
The $260 million McLane Stadium was completed this summer, and Baylor University chose Hellas Construction, yet again, to install their Matrix® Turf system. Baylor's previous experience with Hellas' Matrix® product at Floyd Casey Stadium led to their selection at McLane Stadium.
Aledo High School has been playing on Hellas' synthetic turf since 2006. Cedar Park High School's home stadium is Gupton Stadium, which also features Hellas' Matrix® Turf. Both teams are the last two Class 4A Division II champions and will have the honor of playing the inaugural game on Baylor's new Matrix® Turf on August 29 in the new 45,000-seat McLane Stadium.
"We are excited for Aledo High School and Cedar Park High School to continue their games on our Matrix® Turf and be the first to play at Baylor University," said Reed J. Seaton, President & CEO.
McLane Stadium also opens its doors this Thursday for Traditions Rally, a free community-wide celebration that will give everyone an advance opportunity to celebrate the upcoming season and get a look at the new stadium. The event will include a Baylor football pep rally with the Golden Wave Marching Band, spirit squads and members of the Bears' 2014 football team and fireworks show over the river to close out the celebration.
The Baylor Bears will open their 2014 season on the new synthetic turf against the Southern Methodist University Mustangs on Sunday, August 31 at 6:30 p.m. CT which will be nationally televised on FOX Sports 1.
About Hellas Construction
Headquartered in Austin, Texas, Hellas Construction is a nationwide contractor with a strong reputation for delivering premium-quality sports construction projects across the United States. Hellas has the ability to custom-manufacture and install proprietary brands of synthetic surfaces for field sports, running tracks, and tennis courts, by controlling all related operations. For more information, visit hellasconstruction.com and matrix-turf.com or follow them on Twitter and Facebook.
About Baylor University
Baylor University is a private Baptist university in Waco, Texas. Baylor University is the oldest continuously operating university in Texas. It participates in seventeen intercollegiate sports, and is a member of the Big 12 Conference for all NCAA Division I athletics. The recently-named McLane Stadium will open in 2014 as the home of the Baylor Bears, replacing the Floyd Casey Stadium as their current home. Visit http://www.baylor.edu for more information.
About Aledo High School
Aledo High School is a 4A high school located in Aledo, Texas. It is part of the Aledo Independent School District located in south central Parker County. Betsy Blaney of the Associated Press wrote that Aledo is a "powerhouse" in American football. For more information, visit http://www.aledo.schoolfusion.us/.
About Cedar Park High School
Cedar Park High School (CPHS) is a high school in Cedar Park, Texas; it was established in 1998 to serve as the second high school in the Leander Independent School District. For the 2009 football season, the Cedar Park Timberwolves football team competed in the 16-5A district. They were District Champions in the 2009 and 2010 season. After the final playoff game on December 21, 2012, Cedar Park became the 2012 State Champions. For more information, cphs.leanderisd.org/.