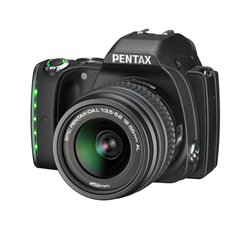 Whether new to photography or a skilled enthusiast, the K-S1 offers photographers the ability to take their imaging to the next level.
New York, NY (PRWEB) August 27, 2014
Adorama, one of the world's largest photography, video, imaging and electronics retailers, now has available for pre-order the newest K-mount DSLR camera from Pentax, the K-S1. This new camera and its accessories can be found online at http://www.adorama.com/searchsite/default.aspx?searchinfo=IPXKS1*. The body retails for USD 749.95. An available one-lens kit includes an 18-55mm lens and retails for USD 799.95. Also an option is the two-lens kit with an 18-55mm and a 50-200mm zoom lens included for USD 899.95.
Whether new to photography or a skilled enthusiast, the K-S1 offers photographers the ability to take their imaging to the next level. This standard-class model incorporates new elements that optimize digital innovations, such as a modern design and an inventive interface system. The addition of LED lights adds brilliance to its exterior and assists with using its features more easily, especially in low-light situations. The K-S1 also provides other outstanding features, rivaling those of high-end models, including the PENTAX-developed anti-aliasing filter simulator first installed on the PENTAX K-3, an optical viewfinder with a glass pentaprism to provide approximately 100% field of view, and an in-body shake-reduction mechanism.
The Pentax K-S1 offers 20 megapixels and 5.3 frames per second continuous shooting, optional connectivity and an LED design.
Compact, lightweight body with distinctive design
The K-S1 camera body's main chassis, including the grip, is designed to be compact in size and sophisticated in appearance, while its optics including the pentaprism employ solid, time-proven designs that easily match those of high-grade SLR cameras. By harmonizing these dissimilar elements, the K-S1 delivers a body design that is totally original and remarkably fashionable.
The PENTAX K-S1's power switch, mode dial, OK button and grip all feature LED illumination; each of which indicates the current status of camera operation. The LEDs for the power switch, for instance, stay green during still-image shooting, but change color to red during movie recording. When the Face Detection function is activated, the number of LEDs illuminated on the grip corresponds with the number of faces that have been detected. This LED body illumination gives a decorative illumination to the choice of distinctive body colors, furthering the look of the camera as a sophisticated digital device.
The K-S1 is available as body-only or a one-lens kit in black, white or blue. The two-lens kit comes in nine colors: Cotton Beige, Linen Brown, Denim Blue, Tweed Gray, Sunset Orange, Dusk Gold, Moon Silver, Midnight Black and Dawn Purple.
High-resolution images and super-high sensitivity of ISO 51200
The K-S1 is equipped with a newly developed CMOS image sensor with approximately 20.12 effective megapixels to deliver super-high-resolution images. It is also designed without an optical AA (anti-aliasing) filter to optimize the imaging power of the image sensor. By coupling this image sensor with the high-performance PRIME MII imaging engine, the K-S1 delivers true-to-life, fine-gradation images by effectively minimizing noise at all sensitivity levels, even during super-high-sensitivity shooting at ISO 51200.
In-body shake reduction (SR) mechanism and AA (anti-aliasing) filter simulator for effective moiré reduction
The K-S1 features a PENTAX-developed SR (Shake Reduction) mechanism to effectively minimize camera shake and assure sharp, blur-free images, even in camera-shake-prone conditions such as when using a telephoto lens, shooting low-light scenes with incident light only, or photographing sunset scenes.
By applying microscopic vibrations to the image sensor unit at the sub-pixel level during image exposure, the K-S1's AA filter simulator provides the same level of moiré-reduction effect as an optical AA filter. Unlike an optical AA filter, which always creates the same result, this innovative simulator lets the user not only switch the AA filter effect on and off but also adjust the level of the effect, allowing the user to effortlessly apply the desired effect for a particular scene or subject.
The K-S1's SR unit has a flexible design that tilts the image sensor unit in all directions, by shifting it horizontally (left/right) and vertically (up/down), and even rotating it. Taking advantage of this flexibility, the K-S1 provides a host of handy shooting functions, including ASTRO TRACER, which simplifies advanced astronomical photography in combination with the optional GPS unit, O-GPS1.
Optical viewfinder with approximately 100-percent field of view
Despite its standard-class classification, the K-S1 is equipped with a glass pentaprism finder featuring the same optics and coatings as those used in higher-level models. It assures the highest level of viewfinder brightness in its class, with a magnification of approximately 0.95 times to provide a broad image field for easy focusing and framing.
High-precision AF with SAFOX IXi+ AF sensor module
The K-S1 features the SAFOX IXi+ AF sensor module, which assures responsive, high-precision autofocus operation with 11 sensors, including nine cross-type sensors in the middle. It also provides a spot beam to assist AF operation in poorly lit locations. Its select-area expansion function ensures that the sensor module keeps tracking a moving subject, even when the subject moves out of a pre-assigned auto-tracking area, by assessing the distance data collected by neighboring focus sensors. The AF hold function maintains the in-focus position, even when the AF system loses track of the subject after once capturing it in focus. These functions combine to improve the camera's accuracy in the detection of moving subjects when its focus mode is set to AUTO, and upgrade its auto-tracking performance of these subjects when using a telephoto lens.
Smartphone-support functions**
By installing the optional FLUCARD FOR PENTAX 16GB memory card in the K-S1, the user can release the K-S1's shutter, check the live-view image, and browse and download the images recorded on the card using a smartphone.
** These functions support smartphones operating iOS6 or later and Android 4.2 or later.
3.0-inch, high-resolution LCD monitor, and newly designed, easy-to-use GUI
On its back panel, the K-S1 features a high-resolution, wide-view LCD monitor with approximately 921,000 dots. It also provides a status screen employing the newly designed GUI (Graphical User Interface), which allows the user to confirm functions and settings assigned to the four-way controller and the OK button at a glance. The RICOH RT font has been used for on-screen menus to improve readability.
Full HD movie recording with stereo audio
The K-S1 captures beautiful full HD movie clips (1920 x 1080 pixels; 30/25/24 frame rate) in the H.264 recording format, which assures flawless, high-quality movies even with fast-moving subjects. It is also equipped with a built-in stereo microphone for recording natural sound during full HD movie recording.
Other features
The Pentax K-S1 is compatible with Eye-Fi wireless LAN memory cards. It offers a 77-segment, multi-pattern metering system for high-precision light measurement, and a DR (Dust Removal) mechanism for effective elimination of dust on the image sensor using ultrasonic vibration.
Industry-expert Mason Resnick has a First Look available for the Pentax K-S1 on the Adorama Learning Center at http://www.adorama.com/alc/0014806/blogarticle/pentax-ks1-sleek-20mp-midrange-dslr-first-look. Look for an AdoramaTV video reviewing the K-S1 embedded in his article.
ADORAMA: More Than a Camera Store
Adorama is more than a camera store – it's one of the world's largest photography, video, imaging and electronics retailers. Serving customers for more than 35 years, Adorama has grown from its flagship NYC store to include the leading online destination for photography, video and consumer electronics. Adorama's vast product offerings encompass home entertainment, mobile computing, and professional video and audio, while its services include an in-house photo lab, AdoramaPix, pro equipment rental at Adorama Rental Company, and the award-winning Adorama Learning Center, which offers free education for photographers in online channels such as the popular Adorama TV.
Adorama is listed as one of the top five electronics retailers by Consumer Reports, "Best of the Web" by Forbes.com, Internet Retailers Top 100, and is the official Electronics Retailer of the NY Giants.
Visit ADORAMA at http://www.adorama.com.