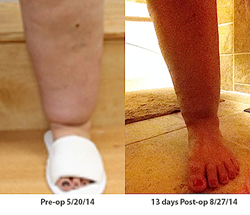 New York, NY (PRWEB) August 28, 2014
For over 20 years Victoria Albano was one of the millions of women in the U.S. afflicted with lipedema, an often misunderstood disorder which causes progressive and symmetrical expansion of fatty tissue in the lower body and legs. Today, two weeks after undergoing her first surgery at Lipedema Centers in Manhattan, Vicki is beginning a new chapter in her life and she is looking forward to a healthier future. Vicki, who has suffered from the debilitating effects of lipedema since her early twenties underwent "lymph-sparing liposuction", a specialized form of liposuction that has been shown to be effective in slowing the progression of lipedema.
Although Vicki's treatment process will take some time, with a second procedure scheduled, followed by months of gradual improvement, Vicki says she can already see an improvement in the appearance of her legs, with the typical pain of lipedema virtually gone. "Lymph-sparing liposuction has been performed in parts of Europe for some time, however the procedure is only now becoming available from a small number of surgeons in the U.S.," says Vicki's doctor, cardiovascular surgeon Dr. David Greuner. "We are treating lipedema patients who are coming to our Lipedema Centers from all areas of the country including Florida, Pennsylvania, New Jersey, Indiana, Alabama and California."
Vicki sent her first post-op photo to Dr. Greuner. "I shot the follow-up this morning when I got out of the shower and was amazed to see the difference when comparing and thought you would like to see," writes Vicki. "Also I wanted to update you on how I'm doing…while it is just shy of two weeks from my surgery my 'lippy' pain that I had felt for longer than I can remember seems all but gone and while I am still hiking the same 3 miles, swimming the same 50 laps, and lifting the same weights, it feels very different and much easier, and although I have not changed anything as far as lifestyle goes I have since dropped just shy of 10 pounds. So as you can imagine I could not be happier with the results so far and think Dr. Greuner is a rock star! I cant wait for my next surgery! Not many people can say that!"
"Studies suggest that up to 17 million women in the U.S. are affected by lipedema," says Dr. Greuner. "The disease is commonly misdiagnosed as 'lymphedema' or mistaken for general obesity. Lipedema is characterized by a bilateral and symmetrical swelling of the lower extremities, except the feet, caused by the impairment of the body's ability to distribute and store fatty tissue, along with enlargement of individual fat cells. This leads to the legs taking on a cylindrical shape."
"Lipedema Centers at NYC Surgical Associates are the only freestanding centers in the country that offer a full array of vascular and lymphatic diagnostics and therapeutics to accurately diagnose lipedema, with available conservative non-surgical treatment as well as definitive surgical treatment at one location, without the need for referrals," says Dr. Greuner.
Women who have been diagnosed with lipedema or who suspect they may be suffering from the disease are encouraged to call Lipedema Centers at NYC Surgical Associates at 888.286.6600. Visit http://www.lipedemasurgery.com for more information on diagnosis and the latest treatments. Lipedema Centers are located in Manhattan, Brooklyn, Long Island and New Jersey.