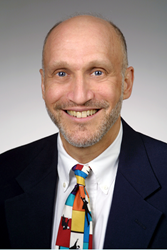 Chapel Hill, N.C. (PRWEB) August 28, 2014
Wayne R. Landsman of the University of North Carolina Kenan-Flagler Business School has received two major awards from the American Accounting Association (AAA).
Landsman, the KPMG Distinguished Professor of Accounting, received the:

2014 Outstanding Educator Award based on his contributions to accounting education through scholarly endeavors in teaching and research over a sustained period of time
2014 Financial Accounting and Reporting Section (FARS) Best Paper Award for reflecting a tradition of academic scholarship and relevance to problems facing the accounting profession and standard-setters for his paper "Earnings Transparency and Cost of Capital" with Mary Barth and Yaniv Konthitchki published in the Journal of Accounting and Economics
"I am deeply honored to receive these prestigious awards," said Landsman.
"Wayne Landsman's important contributions to UNC and the accounting profession – as an educator and a researcher – are exemplified by these two awards," said Douglas A. Shackelford, dean and the Meade H. Willis Distinguished Professor of Taxation at UNC Kenan-Flagler.
"The Outstanding Educator Award is a lifetime achievement award and probably the highest honor an accounting academic can receive," said Shackelford. "The FARS Best Paper Award – his third – is a statement that Wayne's recent work continues to be influential to the profession."
Landsman is an internationally renowned accounting scholar whose research on pensions, employee stock options, asset securitization and fair value accounting has been published in leading scholarly and professional journals.
He is the associate dean of the PhD Program at UNC Kenan-Flagler and served as chair of the accounting area from 1991-98.
"More than anyone, Wayne spearheaded the revival of the UNC accounting area, which led to its prominence over the last 25 years in accounting doctoral education as well as our top-ranked Master of Accounting Program," said Shackelford.
He credits Landsman with recruiting top faculty and demonstrating to the big accounting firms that their financial support could benefit the profession by making it possible for the Business School to hire leading professors.
"I am proud that our focus on scholarship and collegiality at UNC Kenan-Flagler continues. Through the years it has enabled us to attract an outstanding group of accounting scholars to join our faculty and make our accounting program among the very best in the world. Today, UNC Kenan-Flagler is a global center of accounting scholarship as we host some of the most prestigious academic conferences and attract leading academic visitors from around the world to participate in our classes and seminars."
Helping MAC, MBA and PhD students develop the skills they need to compete and excel is the most gratifying part of being an educator, Landsman said.
"Teaching and mentoring doctoral students is particularly rewarding because we develop close working relationships, as I did working with my mentor at Stanford, Bill Beaver, who won the educator award in 1990," said Landsman. "I have been blessed by having an outstanding group of students with whom to work. Several have been coauthors for many years and have become great friends as well as colleagues, including, among others, Dan Amiram of Columbia, Brian Rountree of Rice, Chris Williams of Michigan and Steve Monahan of Chicago and INSEAD."
The AAA presented the awards to Landsman at its annual meeting in Atlanta earlier this month. It is the largest community of accountants in academia who shape the future of accounting through teaching, research and a powerful network of thought leaders. The PricewaterhouseCoopers Foundation sponsored the 2014 Outstanding Accounting Educator Award.
#
About the University of North Carolina Kenan-Flagler Business School
Consistently ranked one of the world's best business schools, UNC Kenan-Flagler is known for its collaborative culture that stems from its core values: excellence, leadership, integrity, community and teamwork. Professors excel at both teaching and research, and demonstrate unparalleled dedication to students. Graduates are effective, principled leaders who have the technical and managerial skills to deliver results in the global business environment. UNC Kenan-Flagler offers a rich portfolio of programs and extraordinary, real-life learning experiences: Undergraduate Business (BSBA), full-time MBA, Executive MBA Programs (Evening, Weekend and global OneMBA®), online MBA@UNC, UNC-Tsinghua Dual-Degree EMBA, Master of Accounting, PhD, Executive Development, and UNC Business Essentials programs. It is home to the Frank Hawkins Kenan Institute of Private Enterprise.