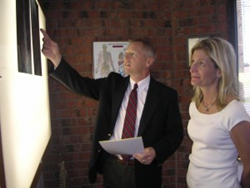 For a limited time, Drake Chiropractic is NOW offering a free consultation/exam that may include x-rays when necessary.
Wichita, Kansas (PRWEB) August 30, 2014
August 26, 2014 WICHITA, KS 62707
Treating patients with debilitating conditions such whiplash, headaches, sports and work injuries, neck and lower back pain, disc pain and sciatica are just a few services provided at Drake Chiropractic.
Conveniently located in the heart of Wichita, Kansas across from the Town East Mall, Dr Jeff Drake has recently upgraded his equipment and now offers the most advanced "state of the art" chiropractic techniques. This includes electrical muscle stimulation, short wave therapy, intersegmental traction, cervical traction, cryotherapy, and most importantly, the DRX9000™ spinal decompression system, the true non-surgical, non-invasive therapy that has treated hundreds of patients with herniated discs, bulging discs, degenerative discs disease and leg pain. He is proud to offer the DRX9000™ to his patients, and has already begun seeing fantastic results from this treatment. It is especially helpful to those experiencing chronic pain, or those who may fear the standard chiropractic adjustment and treatment.
Have pain associated with diabetes, peripheral artery disease, kidney disease, or heart disease? Neuropathy is a term used to describe a dying off of the nerves and blood vessels primarily in the lower legs and feet, but secondarily in the hands, eyes and internal organs. Drake Chiropractic also offers neuropathic therapy to patients suffering from these conditions.
Any trauma, pain or injury should be checked out by a competent doctor. One that is skilled in recognizing the smallest signs and symptoms that something is not right or is out of alignment. A doctor that is the least invasive and the most conservative is a chiropractor.
Worried about the expense? Do not let the concern of cost be a factor to finding out if chiropractic can help an existing condition.  For a limited time, Drake Chiropractic is NOW offering a free consultation/exam that may include x-rays, when necessary (a $285.00 value).
To see if chiropractic is the right option, go to http://www.drakechiropractic.com or call 316-665-6992 TODAY. Drake Chiropractic provides a safe and natural alternative to drugs, surgery, with no recovery time, permanent scarring, or tissue damage.
For more info:
Drake Chiropractic Clinic
154 S Rock Rd Wichita, KS 67207
(316) 651-0156
drakechiropractic.com