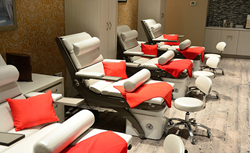 We are excited to offer this high level of service and overall luxury to St. Petersburg residents.
ST. PETERSBURG, Fla. (PRWEB) August 28, 2014
A new luxury beauty lounge concept will open its doors this fall at the St. Pete Sundial shopping center.
St. Petersburg's first Marilyn MonroeTM Glamour Room takes the traditional day spa concept to the next level by offering a variety of glamour services, such as nail treatments at the manicure bar, hair services at the blowout bar and salon, makeup application at the makeup bar, as well as spa treatments like signature facials and tailored massages, all with a glamorous yet affordable twist.
"We are excited to offer this high level of service and overall luxury to St. Petersburg residents," said Niki Bryan, founder and CEO of Marilyn MonroeTM Spas. "Guests will find that the fun, flirty, fabulous experience offered at our Marilyn MonroeTM Glamour Room is lavish, but the price tags are not."
Nail treatments start at just $20 for a manicure and $30 for a pedicure, while signature hairstyles start at $40. Express makeup looks start at $15 and massage services are $40, $60, or $85 for 25-minute, 50-minute and 80-minute sessions, respectively.
In true Marilyn Monroe fashion, the brand sets itself apart with its appealing aesthetics. "We are offering a fresh approach to spas," said Bryan. "The decor is sleek, chic and social."
This is the second Marilyn MonroeTM Glamour Room in the nation, and the sixth Marilyn Monroe Spas brand location in Florida.
"This is just the beginning. Our long-term vision is to establish ourselves first as a national brand, where we can foresee hundreds of locations," said Marilyn MonroeTM Spas Executive Chairman Al Weiss.
The Marilyn MonroeTM Spas brand currently has 10 locations open among its three unique concepts: Marilyn MonroeTM Glamour Room, Marilyn MonroeTM 20 Nail Lounge and Marilyn MonroeTM Spas, with additional locations opening soon.
"Our luxury nail salons, Glamour Rooms and hotel spas are unlike anything guests have experienced before," said Weiss. "Clients can expect a wonderful experience and the best possible customer service in a modern-meets-glamorous environment."
In a pledge to bring guests the very finest in skin care, body care and cosmetics, the brand also offers radiant products that have been created exclusively for Marilyn MonroeTM Spas. The company strives to make fans feel just as fabulous as their namesake, Marilyn Monroe through its full line of branded products, which are available in each location and online.
For more information or to book an appointment, please call (321) 251-4939 or visit http://www.MarilynMonroeSpas.com.
About Marilyn MonroeTM Spas
Marilyn MonroeTM Spas is a national company that transforms traditional spa and salon concepts under the iconic Marilyn Monroe brand. The brand provides superior standards of service, products, customer and environment and value to its international clientele. Marilyn MonroeTM Spas consistently fulfills its clients' desire to "be wonderful" in a fun, social and glamorous environment through its Marilyn MonroeTM Spas, Marilyn MonroeTM Glamour Rooms, Marilyn MonroeTM 20 Nail Lounges and Marilyn MonroeTM Spas' exclusive line of beauty products. For more information, please visit http://www.MarilynMonroeSpas.com.