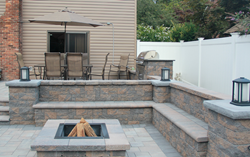 St. James, NY (PRWEB) August 29, 2014
Longo's Landscaping originally established the business as a small lawn maintenance company servicing about 20 homes. After almost 35 years of referrals from satisfied customers, Longos Landscaping Inc. has grown into a landscape design and masonry specialist with over 20 employees and more than 250 residential and commercial accounts.
The website's photo gallery presents a visual tour of the many different masonry and landscaping services Longo's offers such as specialized paving stones, driveways, walkways, patios, retaining walls, waterfalls & ponds. Longo's prides itself in helping homeowners realize their suburban dream house. This month, Longo's completes several new outdoor masterpieces; the top 3 to mention are a fire pit designed and built in Huntington, New York with a surrounding seating wall with light piers; next is a landscape design overhaul in St. James, New York; and finally, a natural travertine stone pool patio in Smithtown.
Longo's landscapers are experienced, creative and professional and will ensure the design vision comes to life. Longo's is a member of the St. James Chamber of Commerce, the Better Business Bureau and is a certified installer with the ICPI (Interlocking Concrete Pavement Institute).
Longo's Landscaping prides itself on friendly and courteous customer service. Rather than juggle several projects at once, the company focuses on the current job until the client is completely satisfied. Though Longo's has evolved into a diversified masonry designer as well, the company still holds landscaping as its main staple of work as a result of skill and customer satisfaction and reliability.
Website visitors can browse through http://www.longoslandscaping.com to see the array of services Longo's Landscaping provides.
Driveways and walkways can exude more curb appeal to the exterior with Paver borders and unique designing ideas. Outdoor kitchens can improve entertaining space, and nothing is more exciting than cooking outside with family and friends during the summer months.
Waterfall installation services will help create a natural look to the landscape and transform the backyard into an oasis. Each phase of the landscaping or masonry is given detailed attention from pre-designing to the construction and installation. Longo's Landscaping & Masonry is the one-stop solution for all landscape and contracting needs.
Call Longo's, a family business with integrity and reliability, for a free estimate at (631) 862-8605 or log on to their website and watch landscaping dreams become reality.