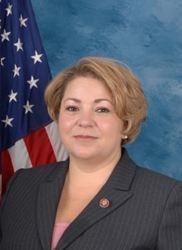 Long Beach, California (PRWEB) August 29, 2014
This Labor Day, Congresswoman Linda Sanchez will be throwing out the ceremonial "First Pitch" at the 2nd Annual Soldier Softball Game.
"We're grateful to Congresswoman Sanchez for her continued support of our work within the community," says Chris Apodaca from Broadview's Long Beach Branch, "it's going to be a great game."
The event began as a friendly rivalry among veterans residing at the Century Village at Cabrillo, known simply as the "VA Village". Veterans who are homeless or in transition from being hospitalized at the VA Hospital can stay live there with immediately family members for up to two years.
Broadview Mortgage Long Beach began their involvement with VA three years ago. "Volunteers invited us to help out at a Super Bowl party in the Spinal Cord Injury ward and we've been supporting the hospital ever since," says Apodaca.
The game begins at 11am with the singing of the National Anthem followed by the first pitch. It is open to the public. For more information on this event please contact Chris Apodaca at (714)244-7368 or chris(dot)apodaca(at)broadviewmortgage(dot)com.