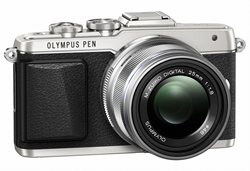 When tilted downward in the 180-degree position, the 3-inch, 1.04-million dot HD touch LCD monitor automatically turns into a mirror display, activating its revolutionary 'Selfie Mode.'
New York City, NY (PRWEB) August 28, 2014
Adorama, one of the world's largest photography, video, imaging and electronics retailers, is now offering for preorder the brand new Olympus PEN E-PL7® interchangeable-lens camera.
The new Olympus PEN E-PL7 is compact and lightweight, featuring a 180-degree downward flip touch LCD with a "selfie" mode. The built-in Wi-Fi®, lets users easily upload and share images with friends and family. Developed on the award-winning OM-D® camera technology, the new PEN E-PL7 boasts the TruePic VII image processor combined with a 16.05 megapixel Live MOS sensor and M.ZUIKO® lenses to deliver outstanding image quality and superior color reproduction and high sensitivity.
The in-body 3-axis VCM image stabilization system is derived from the Olympus OM-D E-M10®. This powerful technology compensates for horizontal and vertical angular shifts (yam and pitch) as well as camera shake along the optical axis (roll), which is especially common in one-handed shooting scenarios. With the in-body image stabilization mechanism, camera shake can be prevented with any lens.
Fastest Ever Autofocus
Olympus's on-board FAST AF uses 81 points to cover the whole image, while Small AF Target and Super Spot AF modes make it possible to zoom in and focus accurately on small sections of the frame. Capable of capturing 8fps sequential shooting, the E-PL7's processor supports continuous capture of up to 20 RAW frames or an unlimited number of JPEG frames, and the Continuous Auto Focus with tracking accurately tracks and captures subjects moving as fast as 3.5 fps.
New "Selfie Mode"
When tilted downward in the 180-degree position, the 3-inch, 1.04-million dot HD touch LCD monitor automatically turns into a mirror display, activating its revolutionary "Selfie Mode." Subjects can frame the image perfectly with the shutter-release button, and a custom self-timer that defaults to deliver three shots at one-second intervals enables an easier selfie shot. The E-PL7's built-in flash helps lets users take self portraits against nighttime backgrounds, and e-Portrait can be activated with a single touch for more attractive skin textures.
A Smart Camera for Smart Phones
Ideal for sharing selfies instantly, the Olympus PEN E-PL7 includes built-in Wi-Fi, allowing users to sync images to smart phones via the Olympus Image Share (OI.Share) app. OI.Share shooting functions make it possible to easily operate the custom self-timer for sequential and selfie interval shooting. Smart phones can be used to control the E-PL7 or as a live viewer. Photographers can then send selected images to their smart device for immediate sharing on social networking sites.
OI.Share Evolves
OI.Share has been enhanced with a number of remote shooting functions to expand the use of a variety of selfie options, with settings that can all be easily accessed remotely on the user's smart phone. A new movie button lets shooters quickly record a movie at customized settings, including customized time length for each movie clip. Images can also be geotagged through the OI.Share App, providing users with a virtual map of all of their adventures.
Add Effects Sans Photoshop
The Olympus PEN E-PL7 comes fully stocked with many new creative features such as two new Art Filters: "Vintage" and "Partial Color." The "Shade Effect" adds shadows to the left and right, or top and bottom of the image. Photo Story has also been expanded to include Layout mode for a photo-album-style arrangement. The camera's new "Panning" mode matches the E-PL7's movement to the subjects so users can track it for the optimal panning effect. A new movie effect, "Old Film Effect," records video to look like old movies shot on film by adding noise, scratches and dust effects.
For photographers who prefer composing their shots using an eyepiece, the E-PL7 is compatible with the optional high-definition VF-4 viewfinder that provides an impressive 1.48X magnification, a 2.36 million-dot LCD, eye-detect to turn it on at the right time, and intuitive functionality that enables real-time viewing of shooting conditions.
New Micro Four Thirds® Lens and Accessories
Olympus is also introducing a black version (previously only available in silver) of its popular M.ZUIKO DIGITAL 12mm F2.0 lens. This high-speed, single-focal-length, wide-angle lens is perfect for shooting high-quality, dramatic scenes in low-light conditions. Its full-metal body and a snap ring enable photographers to pan focus with a distance indicator. A genuine leather body jacket made especially for the Olympus PEN E-PL7, the CS-45B, will also cover the camera's grip. The jacket is available in light brown, brown, and black, and matches the new Genuine Leather Lens Cover LS-60.5GL (compatible with the M.Zuiko 14-42mm f3.5-5.6 EZ lens).
Industry-expert Mason Resnick has a First Look available for the PEN E-PL7® Interchangeable-Lens Camera on the Adorama Learning Center, "Olympus PEN E-PL7 Takes Selfies to New Heights: First Look."
Pricing and Availability
Adorama is now taking orders for the Olympus PEN E-PL7 in the following configurations and price options:

Olympus E-PL7 body, black (IOMEPL7B) – 599.99 USD
Olympus E-PL7 W/14-42 lens, black (IOMEPL7B14) – 699.99 USD
Olympus E-PL7 body, silver (IOMEPL7S) – 599.99 USD
Olympus E-PL7 W/14-42 lens, silver (IOMEPL7S14) – 699.99 USD
Accessories Available Soon

Olympus 12MM F/2 micro (IOMM12) – 799.99
Olympus Metal Hood LH48 F/M12MM lens, black (IOMLH48B) – 89.99
Visit Adorama's website to preorder the Olympus PEN E-PL7 today. Orders are filled on a first-come, first-serve basis. Credit cards are not charged until the product is shipped.
For more information, please visit http://www.adorama.com or the Adorama store, located at 42 West 18th Street in Manhattan.
ADORAMA: More Than a Camera Store
Adorama is more than a camera store – it's one of the world's largest photography, video, imaging and electronics retailers. Serving customers for more than 35 years, Adorama has grown from its flagship NYC store to include the leading online destination for photography, video and consumer electronics. Adorama's vast product offerings encompass home entertainment, mobile computing, and professional video and audio, while its services include an in-house photo lab, AdoramaPix, pro equipment rental at Adorama Rental Company, and the award-winning Adorama Learning Center, which offers free education for photographers in online channels such as the popular Adorama TV.
Adorama is listed as one of the top five electronics retailers by Consumer Reports, "Best of the Web" by Forbes.com, Internet Retailers Top 100, and is the official Electronics Retailer of the NY Giants.
Visit ADORAMA at http://www.adorama.com.
####