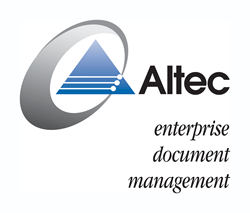 Laguna Hlils, CA (PRWEB) August 28, 2014
Altec Products, Inc., a leader in enterprise document management and workflow solutions, announced today that they have been awarded the "Partnering for Success" Award by the SoCal Chapter of the International Association of Microsoft Channel Partners (IAMCP) alongside of Bond Consulting Services. IAMCP was founded in 1994, providing Microsoft Partners with a voice that reaches Microsoft programs and the IT community at large while facilitating mutual growth and business development among partners.
IAMCP is a non-profit organization that works to maximize its members' business opportunities through funding from sponsor grants and membership fees. It has 38 chapters throughout the continental United States, the largest of which is the Southern California (SoCal) Chapter. The provider of a Certified for Microsoft Dynamics (CfMD) solution, doc-link, Altec joined IAMCP-SoCal in April of 2014.
IAMCP-SoCal serves Microsoft partners in areas within and surrounding Orange County and Los Angeles, meeting on the first Thursday of each month and alternating between the Los Angeles and Irvine Microsoft offices. IAMCP-SoCal facilitates partner networking with monthly meetings, networking events and an annual golf tournament. This year's tournament will take place on October 14, 2014 at the Tustin Ranch Golf Club.
"We love being part of the IAMCP-SoCal chapter," comments Christi Sobodos, Channel Program Manager at Altec and Sponsorship Chair of the IAMCP-SoCal chapter. "In addition to getting to meet and network with Microsoft partners, I go to the meetings for the great business ideas and insight the presentations provide each month."
In August of 2014, IAMCP-SoCal honored both Altec and Bond Consulting Services with the "Partnering for Success" Award for the first quarter. Bond Consulting Services specializes in CRM and ERP software and offers solutions designed to streamline business processes, simplify management and save money. Altec's document management solution, doc-link, integrates with the full line of Microsoft Dynamics ERPs to bring control to existing workflow and effectively eliminate the need to copy, print and file documents. Together, Altec and Bond Consulting Services closed an impressive deal, demonstrating how effectively IAMCP unites Microsoft's top partners to grow business.
"We love to partner with other IAMCP partners," says David Gersten, Customer Success Manager at Bond Consulting Services. "When our client needed a document management system to complement Dynamics GP, we instantly thought of Altec. As a result of a successful partnership, we are excited about our 5th Partnering for Success Award in 18 months!"
For more information about the IAMCP-SoCal Chapter, email info(at)iamcp-socal(dot)org or visit http://www.iamcp-socal.org and use the guest credential on the start page.
To locate another IAMCP chapter, visit http://www.iamcp.org.
About Altec
Altec is a leading provider of Integrated Document Management (IDM) solutions to mid-market companies. For more than 25 years, Altec has provided a wide range of accounting-centric paper to paperless solutions including its flagship product, doc-link™, which enables companies to capture, archive, workflow and route structured and unstructured documents to customers, employees and vendors. Altec's comprehensive solutions include IDM, output management, MICR check disbursement and paper documents that serve more than 13,000 customers worldwide. Altec enjoys strong, collaborative partnerships with ERP solution providers like Microsoft Dynamics to provide the most comprehensive, integrated enterprise document management solution. Altec delivers its IDM solutions through a global network of authorized partners in more than 60 countries throughout the Americas, EMEA and Asia Pacific. For more information, visit Altec at the company website at http://www.altec-inc.com. Follow them on Twitter.com/doclinkbyAltec or call April Blankenship at 1-800-997-9921.
About IAMCP
The International Association of Microsoft Channel Partners (IAMCP) represents Microsoft´s best of breed partners from around the globe. The organization was formed in 1994 and provides Microsoft Partners a voice into Microsoft programs, to the IT community at large, as well as a vehicle to facilitate mutual growth and business development among partners. The non-profit organization is operated by an annually elected board of directors, and is funded through membership fees and sponsor grants.
# # #