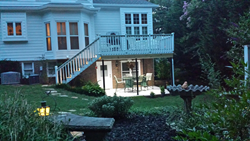 "Lighting was always difficult. Canister lights rarely fit with our underdeck systems. i-lighting solved all these problems. Quite simply, it's the easiest lighting system I've ever worked with," says Heath Bowman, owner of Southeastern Underdeck Systems.
(PRWEB) September 11, 2014
Highlighted by turn-of-the-century buildings housing a vast variety of modern art galleries, studios, shops and restaurants, the "Historic Town of Buford, Georgia" has not only become home to a thriving collective of local artists over the past decade, but also Southeastern Underdeck Systems and its commitment to turning the mostly forgotten and unused spaces under decking to customized living areas. Since opening its doors in 2007, the company's owner Heath Bowman estimates that his firm has completed an average of 20 projects per week throughout the local region as well as Alabama, North Carolina, South Carolina and Tennessee.
"Home and business owners just don't realize the value of these areas until it's pointed out or they really stop to think about it," explains Bowman about his company's ongoing success and hectic work schedule. "Most people place little value on this space outside of storage. But there's so much you can do with these locations once you mix imagination and design with drainage, ambiance and expertise. That's our specialty – working with clients to provide custom options for extending the livability and functionality of spaces under elevated decks."
For Bowman, the first step in the process includes creating a dry, usable underdeck environment that can range anywhere from 100 sq. ft. to 1,900 sq. ft. This begins with the installation of a patented paneling system available in nearly 30 separate colors and finishes and then proceeds with the addition of an assortment of custom touches ranging from arches, ceiling fans and faux wood grain beams to crown molding, porch swings and screen systems that ensure pest-free entertaining.
Another valuable commodity to these design efforts has also been the inclusion of lighting that generally consisted of the addition of recessed canisters until Bowman learned of i-lighting and its LED Lighting Simplified product line from the North American Deck and Railing Association. Introduced in 2005, each i-lighting system is designed with the company's proprietary Easy Plug™ micro connectors, which simply plug together to deliver easy installations completed in half the time of traditional lighting and with near invisible results.
"Lighting was always a sticking point," says Bowman. "Most of our clients wanted some type of lighting included in their designs. But it was always difficult to make the existing forms of canister lights fit with our underdeck systems. It took a lot of modifications to make it work. And once complete, you then always had to worry about passing inspection since the building codes are now so stringent nationwide.
"i-lighting solved all these problems. Quite simply, it's the easiest lighting system I've ever worked with. All you have to do is snap it together and plug it into an outlet to light entire spaces including rails, stairs and posts. Plus, you don't even need an electrician or license for its installation. This is such an added bonus for saving time and money."
In addition to these benefits, each i-lighting Stair, Deck and Landscape Lighting kit can be installed separately or in conjunction through a series of connections that plug together using either end of the i-lighting extension cables. Furthermore, i-lighting LED bulbs use approximately 80 percent less energy than incandescent bulbs and are rated for 12-plus years of operation if used 24-hours-a-day/seven-days-a-week.
Most recently, the company also expanded its product line with the addition of iluma Under Cabinet and Rail Lighting. Each can be used both indoors and outdoors as well as operated independently or with any existing i-lighting Deck, Stair, Landscape Lighting Kit. Other i-lighting system benefits include a:

Photocell technology that senses ambient light and automatically turns lights on and off for both safety and security, while adding convenience and reliability
Lighting design that does not create heat and as a result is safer for pets and children, while attracting less insects
"We're in the business of fulfilling dreams for outdoor packages that offer practically any amenity our clients want," adds Bowman. "i-lighting has made this process phenomenally easier. They even worked with us to develop lighting customized to our underdeck systems. And the customers love it. The systems are practically invisible and inexpensive to use. In addition, the bulbs last for years by offering nearly 50,000 hours of burn time as opposed to 2,000 hours for conventional bulbs."
Headquartered in Buford, Georgia, Heath Bowman and Southeastern Underdeck Systems can be reached at 678-765-7686 and/or info(at)southeasternunderdeck(dot)com.
For more information on i-lighting's Deck, Stair and Landscape Systems, please visit http://www.i-lightingonline.com or call 888-305-4232.