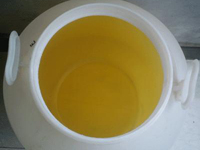 Zhengzhou Zhongyu Metallic Materials Co. Ltd. is a professional manufacturer of epoxy resin glue and fiberglass backing pad.
Zhengzhou, China (PRWEB) August 28, 2014
According to iAbrasive's latest news, epoxy resin competitiveness in China has witnessed a tremendous growth in recent years. (See the original article at: http://www.iabrasive.com/articles/gradually-improved-epoxy-resin-competitiveness-in-china-abrasives-industry)
The industrialization of China's epoxy resin can be dated back to 1958. So far, it has a history of more than fifty years despite the fact that it developed slowly during 1980s. China's epoxy resin industry began mass production in 2000. At present, China has become the largest global producer and consumer of epoxy resin. In 2012, a majority of epoxy resin products were listed as "high pollution" and "high environmental risk", which slowed down the development of epoxy resin. Currently, most epoxy resin manufacturers have devoted themselves to enhancing environmental protection measures in order to meet relevant requirements.
iAbrasive analysts point out that China's epoxy resin capacity was 2.05 million tons in 2013, while new capacity mainly comes from chemical companies. Overall domestic epoxy resin maintained an excessive supply. China's epoxy resin productive capacity is decentralized. With the Chinese government making more efforts in environmental protection, the production of solid epoxy resin was greatly influenced. Some resin factories in Shandong Province were forced to reduce production or even stop production. As a result, the utilization of capacity was rather low for a long period of time.
China epoxy resin consumption is concentrated mainly on coating, and the electric & electronic industries, with the two industries accounting for 75% of epoxy resin total consumption. The other 25% involves the production of composites, bonding agents, building materials, etc. According to Zhongyu, a professional manufacturer of epoxy resin glue in China, the company's demand for epoxy resin glue is continually increasing. China's epoxy resin consumption in 2013 increased over 2012. The total consumption in 2013 reached 1.17 million tons, the ring growth rate being 15%. With the development of China's auto industry, container industry, CCL (copper-clad plate) industry, real estate industry, water conservancy project industry, electric network transformation industry, information industry, and new energy industry in recent years, epoxy resin consumption is bound to rise year by year. It is predicted that the composites industry will witness the fastest growth in consumption.
According to the relevant authorities, with the development of China's national economy and more concentration on environmental protection, China's epoxy resin industry may have two tendencies: on one hand, enterprises are encouraged to possess the advantage of scale and improve product applicability; on the other hand, enterprises shall attach importance to industry chains and regional economic development. In the near future, China's epoxy resin products' competitiveness will continue to improve.
For more information about abrasives industry, please visit: http://www.iabrasive.com/articles/.