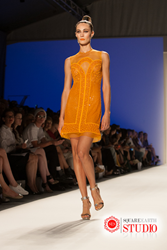 'While the collection was inspired by the designer's travels to Barcelona, Spain, the use of precise tailoring and retro cuts also brought fashion influences from the 40's and the 60's to mind,' said Otaymah Bonds, Contributor for FashionMingle.net
New York, NY (PRWEB) August 27, 2014
Fashion Designer Joanna Mastroianni's 2014 Spring / Summer collection featured distinct styles with vintage appeal and modern twists. FashionMingle.net attended the runway show at Mercedes-Benz Fashion Week and interviewed the designer about her collection for their Ticket to the Tent YouTube series.
Trend contributor, Otaymah Bonds, reviewed the fashion collection and chose three striking designs that are perfect selections that will carry you from a summer soiree to fall fete. "While the collection was inspired by the designer's travels to Barcelona, Spain, the use of precise tailoring and retro cuts also brought fashion influences from the 40's and the 60's to mind," said Bonds.
The Modern Little Black Dress
Mastroianni revamped the timeless "little black dress" with expert tailoring and modern details. Catering to the modern and powerful woman, the dress has a daring low-neckline with sheer fabric on the skirt for an overall bold look. According to Bonds, "The dress is a new take on the tulip shape made popular by Christian Dior-all nipped in waist and flared out skirt. But, the use of sheer fabrics with feminine polka dots and a ruffled hem really drive home that this look if definitely from 2014." Pulling from a variety of classic style and fresh influences, the look is perfect for semi-formal occasions.
Orange Is the New Black
Mastroianni also offered a more vibrant alternative to the classic "little black dress" with an eye-catching tangerine mini dress. "The electric orange mini dress in this years' Spring/Summer Mastroianni collection brought together the 1960's shift and the hand-beading that Mastroianni is known for," said Bonds. Details such as the beading and sheer material that covered the neckline and shoulders provided a youthful look to the retro chic ensemble.
Playing with Silhouettes
A black and white ensemble that blended sleek and fitted cigarette pants with the flowing, laid-back kaftan style top showed off Mastroianni's seamless mixtures of style. This effortless look which left room for daring beauty was complemented by an orange lip and long bauble-like earrings. Bonds summed up the look as one of the best for summer wear: "The mix of patterns, contrast of the neutrals black and white and loose fitting bohemian feel of the clothes...is a beautiful outfit that is perfect for the Summer."
About FashionMingle.net
FashionMingle.net is a New York Fashion Week content provider and provides professional media coverage and trend reports for their daily coverage for media partners. The media team will be reporting trends from the runway during September's Mercedes-Benz Fashion Week Spring / Summer 2015 collections.