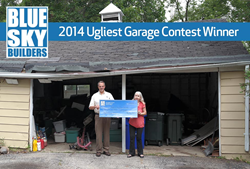 Downers Grove, IL (PRWEB) August 28, 2014
The Ugliest Garage Contest of 2014 sought to identify the ugliest garage in the Chicago region and nationwide, and is pleased to announce the winner, a homeowner from Glen Ellyn, Ill. Sponsored by Blue Sky Builders, the winner will receive their choice of a 50-inch LCD Television or cash equivalent.
Announced May 1 and running through June 30, 2014, the Ugliest Garage Contest received entries from across the United States, with the majority from Northern Illinois and the Chicago region. The contest required submission of a photo image via the Blue Sky website, which Blue Sky then shared on the their Facebook Gallery, and Pinterest profile.
"The Ugliest Garage Contest has been a fun way to engage with the community and our social media networks," says Scott Wendell of Blue Sky Builders. "When we saw the winning garage, we knew it was one of the ugliest we have encountered. Take a look and you be the judge!"
Blue Sky Builders will feature the Ugliest Garage Contest winner and finalists on its website, blog, Facebook Page, and Pinterest Profile.
About Blue Sky Builders:
Founded in 1979 and having constructed thousands of garages, Blue Sky Builders is a leading custom garage builder in the Chicago region and suburbs. For more information or a garage quote, please call 630-852-8485, email customerservice(at)blueskybuilders(dot)com, or visit our website at http://www.BlueSkyBuilders.com.