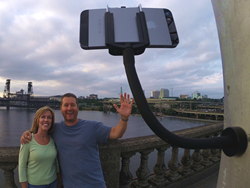 "Now you don't have to ask strangers to take your picture, or worse, have your vacation photos feature your arm in the frame."
Portland, OR (PRWEB) August 28, 2014
They say the best camera is the one you have with you, and the GripSnap is a new way to get much better photos with smartphone cameras. With the GripSnap, all that is needed is a ferrous metal surface, and users can mount smartphones to take group photos that include everyone in the group, and selfies that don't look like traditional selfies.
The GripSnap is a patent-pending, flexible smartphone stand with a powerful neodymium magnet as a base, which allows users to "snap" it to any ferrous metal surface. According to the developer of the GripSnap, Matt Franklin, "Now you don't have to ask strangers to take your picture, or worse, have all of your vacation photos feature your arm in the frame. It's a great travel gadget."
Currently on Kickstarter with less than two weeks remaining, the GripSnap surpassed its funding goal in its first 14 days. Smartphone photographers are enthusiastic about the GripSnap because it can be attached to anything from a bridge rail to a street sign to a fire hydrant, and using a common camera timer app, it's as if someone is holding the camera, taking the picture. And when taking group shots, there never has to be a member of the group missing because he or she is taking the picture.
After several rounds of prototyping and testing, Mr. Franklin launched a Kickstarter campaign to raise the necessary capital to bring the GripSnap to the market. "After my first product, PostureNOW, landed me on Shark Tank," stated Franklin, "I thought crowd funding would be a great way to publicize this product and get a feel for the market before going into full-scale manufacturing."
The GripSnap comes with a spring-tensioned clip that securely holds most smartphones. This clip can be quickly removed, revealing a 1/4-20 screw that enables users to mount point-and-shoot and GoPro cameras. Attached to most any ferrous metal surface, the GripSnap provides a flexible monopod on the go. It is also a handy smartphone holder for watching videos or making FaceTime calls.
The GripSnap's magnetic base is made of extremely powerful, rare-earth neodymium. It holds tightly to ferrous metal surfaces and features a rubberized base pad that eliminates scratches when attaching the GripSnap to delicate surfaces such as the hood of a car.
There are dozens of smartphone apps and timers available that can be used with the GripSnap. Camera self-timers give users the ability to set a timer for 5 or 10 seconds, enabling users to frame the perfect selfie or group shot.
The GripSnap Kickstarter campaign lasts until September 10th. To follow the project, visit Kickstarter.