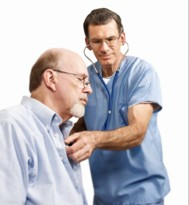 PFSR-18 [progression-free survival at 18 weeks] was strongly correlated...with better overall survival.
Raleigh, NC (PRWEB) August 29, 2014
Scientists from four European countries say they have independently validated the idea that progression-free survival correlates with overall survival of mesothelioma. Surviving Mesothelioma has just posted an article on the new research. Click here to read it now.
Doctors from France, Belgium, UK and The Netherlands studied the cases of 523 mesothelioma patients who were part of 10 European chemotherapy studies.
"PFSR-18 [progression-free survival at 18 weeks after treatment] was strongly correlated and discriminated patients with better overall survival from the poorer prognosis patients," writes lead investigator Baktiar Hasan of the European Organisation for Research and Treatment of Cancer headquarters in Brussels, Belgium.
The study, published in the European Journal of Cancer, found that a patient's lack of mesothelioma progression at 9 weeks after chemotherapy was also a predictor of expected survival.
"The suggestion that treatment response may not necessarily be the best predictor of survival should be encouraging news for mesothelioma patients whose tumors have not been reduced in size by chemotherapy," says Alex Strauss, Managing Editor of Surviving Mesothelioma.
To read more results of this study and what it may mean for patients and families, see Mesothelioma Survival: Treatment Response May Not Be the Best Predictor, now available on the Surviving Mesothelioma website.
Hasan, B et al, "Progression free survival rate at 9 and 18 weeks predict overall survival in patients with malignant pleural mesothelioma: An individual patients pooled analysis of 10 European Organisation for Research and Treatment of Cancer Lung Cancer Group studies and an independent study validation", August 21, 2014, European Journal of Cancer Epub ahead of print, http://www.ncbi.nlm.nih.gov/pubmed/25155251.
For nearly ten years, Surviving Mesothelioma has brought readers the most important and ground-breaking news on the causes, diagnosis and treatment of mesothelioma. All Surviving Mesothelioma news is gathered and reported directly from the peer-reviewed medical literature. Written for patients and their loved ones, Surviving Mesothelioma news helps families make more informed decisions.