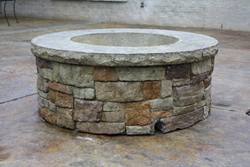 Morris, Illinois (PRWEB) August 28, 2014
One of everyone's favorite times of the year are the evenings with a chill in the air where you can gather around a backyard fire and enjoy the hypnotizing effects of the flames. Campfires and the like have been part of human existence from the beginning and it is something that remains at least a fascination for nearly everyone. They provide warmth, light, and ambiance, making them a natural gathering spot for socializing, entertaining, and relaxation. People are drawn to the campfire atmosphere, and before you know it, the guests are looking for a way to have one of their own. The trend for having an easy and convenient way to create a fire in the backyard is growing every season and contractors are looking for easy ways to accommodate those requests. To make a fire pit especially attractive adds another benefit. It adds beauty to your landscaping when viewed from indoors as well as outdoors.
Walttools has now made it easy for the contractor to provide a durable and attractive concrete fire pit for any clients that request one, by creating a simple to use concrete form liner designed just for that purpose. Walttools stacked stone fire pit liners were created to be used in conjunction with a three foot Sonotube, commonly found at any home improvement store, and then that mold is filled with concrete. When the concrete is cured the following day, the form liners are removed and you have a decorative concrete fire ring that can be customized into a number of looks specific for any landscape design. These fire pit liners can be used to pour on site of the client, either alone or as part of any decorative hardscape plan.
Additionally, this system is very convenient for the concrete contractor to create a customizable precast fire pit at any time, and any place, where they have extra concrete available and save for later use. This system is far faster than traditional methods of constructing fire pits using brick and mortar or stone and mortar, neither of which can be made off site and conveniently moved to a client location.
Cast concrete fire pits can be colored with any number of concrete coloring systems including integral colors, water base concrete stains, and concrete acid stains. They can be poured with an integral ledge cap(as shown in picture one) or any desired cap can be added at a later time. Contractors can even offer full table tops to cover the pit in the off season providing even more versatility in such a convenient package.