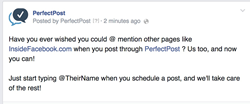 Atlanta, GA (PRWEB) August 28, 2014
Facebook has not allowed 3rd party publishing tools to @mention other pages - marketers have been forced to choose between the social advantages of mentioning their partners and the performance advantages of optimized platforms like PerfectPost. It's a pain - so much so that it is Hootsuite's #1 most requested feature.
In February, Facebook made this more painful when they announced that your posts might get more exposure when they mention other pages.
This all changed with Facebook's Graph API 2.1, but details seemed scarce and companies had to ask Facebook for approval.
Today, PerfectPost is the first social publishing tool approved to allow marketers to mention other pages, and all of our customers can use it immediately. By using PerfectPost, marketers can socially mention their friends and partner pages while also building their email list, building retargeting lists, and reaching as many fans as possible with each post.
PerfectPost CEO, Rob Kischuk, emphasized, "We're the first to market with this feature, because we're completely obsessed with helping marketers squeeze every ounce of opportunity from their Social Media Marketing. If we can add features that are going to help marketers reach more people, build partner relationships, and build their email lists, we're going to do it."
For more information on how to use these new tools to improve your social media performance, contact us at http://perfectpost.net.