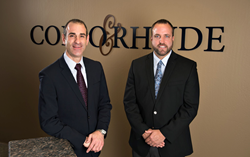 Jeffrey's extensive experience in scientific research makes him an invaluable asset to our firm.
Scottsdale, Arizona (PRWEB) August 29, 2014
The Scottsdale Law Office of Corso & Rhude is pleased to introduce another new attorney, Jeffrey W. Kegler, to its growing team of expert Arizona criminal defense, personal injury and family law attorneys.
Kegler brings an extensive knowledge of scientific research and evaluation to his cases. He will apply this scientific knowledge and expertise to all traffic related and criminal cases to evaluate the breakdown and analysis of blood alcohol testing, speed measurement instruments and drug measurements.
"Jeffrey's extensive experience in scientific research makes him an invaluable asset to our firm," said Christopher P. Corso, a founding partner of Corso & Rhude. "In a state where the prosecution of these cases relies heavily on the measurement from these machines, Jeffrey's experience in analyzing the data will be of tremendous value to Corso & Rhude clients."
Most recently, Kegler worked as an attorney at a Phoenix law firm. Previously, he gained experience as a judicial clerk at the Pinal County Superior Court in Florence, Ariz., where he participated in legal research, the analysis of legal arguments and more.
He also worked as a clinic fellow at the Arizona Summit Law School where some of Kegler's duties included assisting the indigent at the City of Phoenix homeless court with veterans benefits and uncontested divorce actions.
Kegler received his Bachelor of Arts in Chemistry degree in 2005 from the University of Washington, and then received his Bachelor of Science in Biology degree from the same university, two years later.
When he received his Juris Doctorate from Arizona Summit Law School, Kegler graduated in the top 15 percent of his class.
"We're pleased to add a knowledgeable attorney to the team like Jeffrey to our team," said John M. Rhude, a founding partner at Corso & Rhude.
Corso & Rhude is dedicated to hiring attorneys who are authorities in their areas to represent clients in the best way possible.
Kegler joins a Scottsdale law firm that continues to rapidly expand as it aggressively defends the rights of its clients. Corso said his firm has used its former prosecutorial experience to quickly grow its client base, stressing both a personal touch with clients and a commitment to delivering results.
"We've drawn on our experience as former prosecutors to develop successful strategies for defending our clients in Arizona courtrooms," Corso said. "Our approach to practicing law begins and ends with making sure each and every client receives professional representation."
The Law Office of Corso & Rhude has quickly built a reputation for its vigorous defense of clients, using its lawyers' previous experience with the Maricopa County Attorney's Office and other prosecutorial agencies to assist its clients with their criminal defense cases.
The experienced Arizona DUI lawyers at Corso & Rhude serve clients throughout Arizona, including the cities of Ahwatukee, Avondale, Buckeye, Chandler, El Mirage, Gilbert, Glendale, Goodyear, Mesa, Peoria, Phoenix, Scottsdale, Sun City, Surprise, Tempe, Tolleson and Youngtown.
To schedule a free consultation, visit http://www.corsorhude.com or call (480) 471-4616. The Law Office of Corso & Rhude, PLLC is located at 14500 N. Northsight Blvd., Suite 116 in Scottsdale, Arizona, 85260.