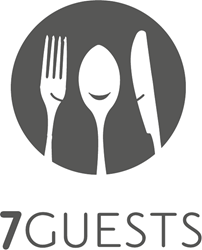 The core idea of 7GUESTS is to bring together a group of people, who do not know each other, in the relaxed environment of a restaurant.
(PRWEB UK) 1 September 2014
Making new friends is never easy, however, whether single or married, it is equally important to have a broad social network. The recently launched web portal, 7GUESTS, makes getting to know new people less of a challenge.
Making friends was easier when we were children. As we get older it becomes tougher to make new friends. One of the main conditions to making new friends is meeting people in a setting that allows everyone to let their guard down and confide in each other. A dinner party is an ideal opportunity to create this environment, and 7GUESTS makes this easy to organise.
When asked about the number "7" in the name 7GUESTS, Malcolm Mallia, one of the co-founders, said "Whenever I have been to a dinner party with more than eight people, the table invariably breaks up into two or more conversations. At 7GUESTS we felt that we should limit the table size to eight. Hence, one host and... seven guests. This way everyone is part of the whole conversation throughout the night. You can get to know anyone and everyone at the dinner."
The core idea of 7GUESTS is to bring together a group of people, who do not know each other, in the relaxed environment of a restaurant. As the conversation flows, so will the formation of new acquaintances and friendships. Whether it is for professional or social networking, meeting people in new places or even for romance, meeting people over dinner is the ideal way to get to know them.
Members can organise their own dinners at any restaurant. There are no stipulations about singles or couples being members, however when organising a meal, the host can request that it be limited to singles, couples or mixed.
7GUESTS events are all held at established restaurants, and partner and official affiliate programmes will be launching soon. As part of its launch, the portal is offering free trial subscriptions to allow new members to try out the experience for themselves. About the experience, Malcolm said "It can be a bit daunting, going to your first dinner. Asking yourself who you are going to meet, what will the conversation be about and so on. However once you get there and relax, it is very comforting to know you are part of a group, you do not have to struggle to keep the conversation going, and knowing that everyone else was feeling just as apprehensive as you to start off."
7GUESTS is an on-line portal, creating opportunities to meet new people. It has several key focuses, allowing members to be as inventive as they wish. In recognising the importance of social interaction, 7GUESTS generates opportunities to bring together people from all walks of life, where they can interact within a dining environment.
To learn more about 7GUESTS visit the website at: http://www.7Guests.com
Media contact:
heidi(at)7guests(dot)com