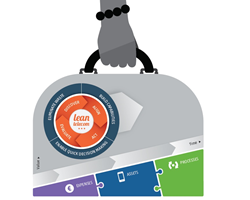 'Introducing Lean Telecom Management, Ezwim demonstrates its innovative vision and customer focus,' says Bram Cool, CEO of Ezwim. 'We serve our clients with Lean excellence.'
Amsterdam, The Netherlands (PRWEB) August 30, 2014
Ezwim, the global leader in Telecom Expense Management (TEM) technology, is proud to be the first in the industry to introduce Lean Telecom Management.
The Lean Telecom Management philosophy spans the complete set of Ezwim products & services.
What is Ezwim Lean Telecom Management?
'Lean' is a business management philosophy which focuses on reducing waste to improve overall customer value. Ezwim has put a continuous business-improvement system in place that:

Eliminates waste
Builds lasting capabilities
Enables quick decision making
Lean Telecom Management applies this methodology to three distinct areas: Telecom Assets, Telecom Expenses and Telecom Processes. It is a process that continuously focuses on realizing the Lean benefits for customers.
Ezwim has incorporated elements of Lean Telecom Management in all its products, both software and services. The Lean philosophy is most clearly articulated in our three most recent managed service propositions:

Mobile Lifecycle Management, a full service solution for telecom expense and telecom cost management;
Data Roaming Optimization, a consultancy service for optimizing data roaming cost;
Mobile Helpdesk, comprehensive end-user and telecom manager support services.
The Ezwim range of Lean-inspired products will continue to grow in the future.
"Introducing Lean Telecom Management, Ezwim demonstrates its innovative vision and customer focus," says Bram Cool, CEO of Ezwim. "We serve our clients with Lean excellence. We help them to reduce workload through process efficiency, realize quick savings and become more flexible. Our Lean approach is already a success for several of our large international customers."
About Ezwim
Ezwim (http://www.ezwim.com) is global leader in TEM technology. Ezwim offers a comprehensive portfolio of Telecom Expense Management applications over the Internet (Software as a Service). With its TEM applications Ezwim helps companies, carriers, and TEM firms make their telecom costs fully transparent, to reduce these costs and increase efficiency of related processes. Involving employees and extensive self-service options are distinguishing factors of Ezwim. The flexible nature of the proven Ezwim technology makes it easy to work with for all types of businesses; large, small, nationally and internationally. Since 2001, Ezwim has satisfied customers all over the world.
For more information:
Ezwim
Bram Cool, CEO
Mobile: +31 619781727
Office: +31 88 8884300
Email: bcool(at)ezwim(dot)com
Ezwim headquarters:
Science Park 404
1098 XH Amsterdam
The Netherlands
http://www.ezwim.com