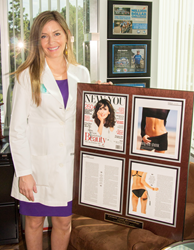 I'm very happy that my patients are satisfied enough that I was able to become a Vitals Top 10 Doctor.
San Diego, CA (PRWEB) August 28, 2014
Vitals, a recognized and trusted website for finding and reviewing doctors, has named Dr. Sabrina Fabi of Cosmetic Laser Dermatology one of their Top 10 Doctors for 2014. Vitals allows hundreds of thousands of patients to share their doctor experiences and rate their doctors on a number of components, including bedside manner, face time, and follow-ups. The Vitals Top 10 Doctor recognition means that out of all the dermatologists in California, Dr. Fabi was ranked one of the highest by patients.
"I'm honored to receive this recognition," said Dr. Fabi. "I care about my patients and giving them the best individualized care possible. I'm very happy that my patients are satisfied enough that I was able to become a Vitals Top 10 Doctor."
Dr. Fabi has also received the Most Compassionate Doctor award, as well as the Patients' Choice award. She genuinely cares about all of her patients and does her best to ensure that they leave her office completely satisfied. At Cosmetic Laser Dermatology, Dr. Fabi is known as the "expert injector" for her expertise in administering injectables such as Botox or dermal fillers.
"I like to see my patients happy with the results of any treatment I perform," stated Dr. Fabi. "I use my expertise to create a welcoming atmosphere and make sure my patients are as comfortable as possible when administering any kind of treatment. I make sure that the process from initial consultation to follow-up is clear, and that the patient knows what to expect."
All of the expert dermatologists at Cosmetic Laser Dermatology are committed to providing individualized patient care. This starts with a thorough consultation in which the patient and doctor will discuss the patient's concerns and desired results, and formulate a specialized treatment plan that will satisfy the patient to the best extent possible. They will then follow up with the patient in order to make sure everything is going as it should and answer any questions they may have.
"Some dermatologists think that the treatment itself is the most important part of a patient's visit, but the consultation and follow-up are equally important," explained Dr. Fabi. "Discussing treatment options and what the patient can expect from them helps to put the patient at ease and ensures that they are getting results that are both possible and what they want. Following up with patients is also important to make sure they follow any specific instructions and know that they can ask questions at any time."
Sabrina G. Fabi, MD, is a double board certified dermatologist and cosmetic surgeon who serves as the head of research and clinical trials at the landmark dermatology center of Cosmetic Laser Dermatology in San Diego. As a specialist in laser and injectable treatments, Dr. Fabi helps patients achieve ideal aesthetic results through multiple cutting-edge procedures, including non-invasive Ulthera and ThermiTight skin-tightening procedures, Photodynamic Therapy, Sclerotherapy, and volume restoration with dermal fillers. As a highly-respected dermatologist, Dr. Fabi believes in developing a unique and custom treatment plan for each and every patient she sees.