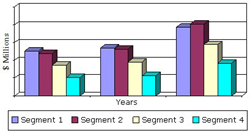 Global Market for Surgical Navigation Systems Expected to Reach $631.9 Million in 2018
Wellesley, Mass., (PRWEB) August 28, 2014
BCC Research (http://www.bccresearch.com) reveals in its new report, SURGICAL NAVIGATION SYSTEMS: TECHNOLOGIES AND GLOBAL MARKETS, the global market for surgical navigation systems was valued at $419.7 million in 2013. Driven by the need for replacement of existing installations and the demand created by medical tourism in emerging geographies, the market is expected to grow to $631.9 million at a compound annual growth rate (CAGR) of 8.5% from 2013 through 2018.
While revenue generation will depend on neurosurgical and orthopedic navigation systems segments, volume sales are expected to be driven by ENT navigation systems in the developed markets. It is expected that ENT navigation systems will grow at a CAGR of 10.4% from 2013 to 2018. The economic slowdown has negatively impacted spine surgery volume in certain regions. This combined with reimbursement cuts are likely to hamper the growth of spine navigation systems in the immediate future.
"Opportunities in terms of geographical segments are abundant in emerging markets. New hospitals with highly specialized operating rooms are being established in countries such as India and China," says BCC Research analyst Krishanu Bhattacharjee. "With a significant proportion of spine and ENT surgeries shifting to ambulatory surgery centers, additional opportunities for sales of navigation systems are expected to open up in countries such as the U.S."
SURGICAL NAVIGATION SYSTEMS: TECHNOLOGIES AND GLOBAL MARKETS provides a current review of the surgical navigation systems market and offers an in-depth coverage of the competitive landscape. BCC Research determines the current market size, defines trends and presents forecasts of revenue growth over the next five years.
Editors and reporters who wish to speak with the analyst should contact Steven Cumming at steven.cumming(at)bccresearch(dot)com.
About BCC Research
BCC Research publishes market research reports that make organizations worldwide more profitable with intelligence that drives smart business decisions. These reports cover today's major industrial and technology sectors, including emerging markets. For more than 40 years, we have helped customers identify new market opportunities with accurate and reliable data and insight, including market sizing, forecasting, industry overviews, and identification of significant trends and key competitors. We partner with analysts who are experts in specific areas of industry and technology, providing unbiased measurements and assessments of global markets. Our clients include the top companies in industries around the world as well as universities, business schools, start-ups, consulting firms and investment companies. BCC Research is a unit of Eli Research LLC. Visit our website at http://www.bccresearch.com. Contact us: (+1) 781-489-7301 (U.S. Eastern Time), or E-mail information(at)bccresearch(dot)com.
Data and analysis extracted from this press release must be accompanied by a statement identifying BCC Research LLC, 49-2 Walnut Park, Wellesley, MA 02481, Telephone: (+1) 781-489-7301; E-mail: editor(at)bccresearch(dot)com as the source and publisher. Thank you.