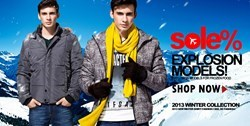 (PRWEB) August 30, 2014
Skmen.com, a famous online supplier of trendy clothes, has unveiled its new assortment of sexy mini dresses. At the moment, all these mini outfits are offered at discounted rates, up to 30 percent off. The deadline of the promotion is September 14.
The company's senior spokesman states, "To provide worldwide clients with the latest information about our hot designs, we have listed some of the best-selling items in our online store. We hope to help all stylish ladies to get high quality, fashionable clothes. Many of our sexy mini dresses have received many positive comments. So, I have confidence in this new collection."
Skmen.com considers customer satisfaction and service as its top priorities; the company will unveil more new and special items for customers around the globe in the coming weeks. All the sexy mini dresses from the company are of high quality; they are well designed by top experts. Along with the discounted prices, all of them are offered with low shipping costs.
In addition to mini outfits, the company is selling thousands of comfortable clothes in its online store. Almost all its items are provided in different colours and sizes. The company guarantees that all its products are made with comfortable to wear materials.
About Skmen.com
Skmen.com, a reliable company founded in 2009, is one of the leading suppliers of men's and women's high quality clothes. It has more than 5000 customers from every part of the world; it hopes to help worldwide stylish ladies and gentlemen. Now, it is selling thousands of fashionable items online. For more detailed information about the company and its wonderful items, readers can visit http://www.skmen.com/product-mini-dresses-003004003.aspx.